After Rupert Murdoch joined Twitter in late 2011, his tweets were a pretty steady source of commentary and controversy. A New York artist even made letterpress notecards out of some of the most memorable ones.
But especially since the beginning of this year, the media mogul's tweeting has tailed off. And Murdoch didn't tweet once during the month of June.
The reason is not immediately obvious. Had he lost his password? Did he sour on Twitter? Was he totally consumed with his pursuit of a now-disclosed $80 billion bid for Time Warner by 21st Century Fox, where he's chairman and CEO?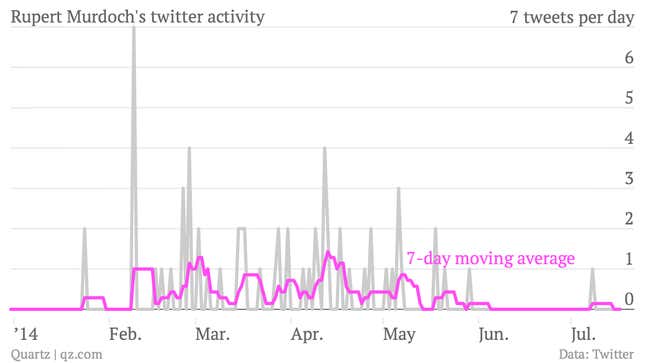 Murdoch tweeted at least once a week from February through mid-May, before taking his June hiatus. He returned to the service on July 8 to tout the 125th-anniversary edition of the Wall Street Journal, which is owned by News Corp, where he's executive chairman.
He has been silent since.
Since he joined Twitter on New Year's Eve 2011—reportedly after attending a New Year's party with Twitter co-founder Jack Dorsey, Murdoch has tweeted 1,122 times. That includes seven times on his first day. His usage is sporadic but declining.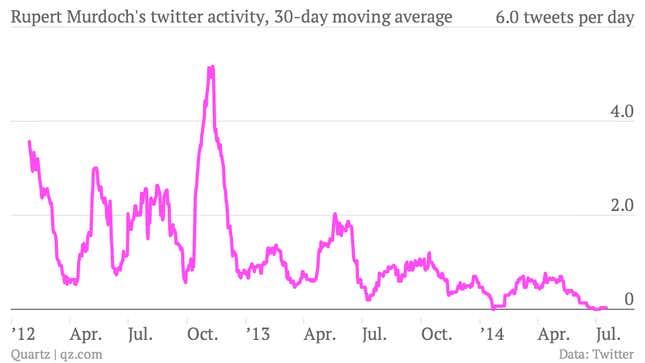 Where Murdoch once tweeted multiple times each day, he has averaged less than one tweet per day on a rolling 30-day basis since April 18. (Fox's media relations department didn't immediately respond to our request for any explanation of the dropoff.)
If you're missing the Twitter updates on Murdoch's whereabouts, there is this Tumblr site with photos of the 83-year-old executive maintained by Natalie Ravitz, his chief of staff who is still tweeting at her normal levels. The Tumblr includes photos of him in Australia dated yesterday.