The shockwaves from the news that Rupert Murdoch's 21st Century Fox recently approached Time Warner (and was rebuffed) about an $80 billion takeover are still rippling through New York's media scene today.
And the early consensus among analysts and media observers is that a big part of the rationale behind such a deal is Murdoch's desire to get hold of HBO, Time Warner's premium cable channel, which is behind a seemingly endless number of hit TV shows, including recent blockbusters such as Game of Thrones, True Detective, and Silicon Valley.
As we have noted, HBO has fewer subscribers than the popular streaming video service Netflix, but it still makes much more money. And many think the division is under-appreciated by investors— certainly if you compare it to the valuation ascribed to Netflix. And Murdoch and Fox seem to agree.
According to Bloomberg, which cites "a person familiar with the matter," Murdoch and Fox value HBO at "more than $20 billion." (Analysts at Stern Agee said it was worth $18 a share, or about $16 billion, in a research note in February.)
Since it spun off its publishing unit, HBO is now actually Time Warner's smallest unit, in revenue terms, although it is more profitable than its Warner Bros. film studios operation. But the premium channel is "key to any strategy Fox pursues for online-video services," Bloomberg reports. Whether that includes selling HBO to online customers without a cable subscription, as many consumers have been crying out for, remains to be seen.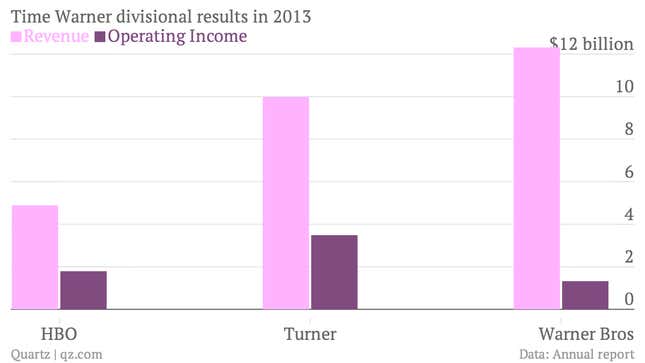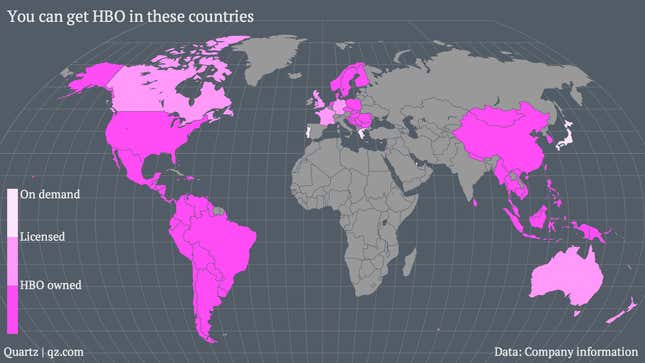 HBO already has 127 million subscribers around the globe. It owns or partly owns networks in more than 70 countries, and licenses its content to existing networks in many others. It has also been offering internet-only streaming subscriptions in the Nordic countries.   The network has resisted online-only subscriptions in the US and elsewhere because that would threaten the highly lucrative affiliate fees it earns from big cable companies such as Comcast and Time Warner Cable, which are prepared to pay top dollar, because the ability to include HBO in TV packages remains a major selling point for customers.
Rich Greenfield, a widely followed analyst at BTIG Research, agreed that Fox's main interest is likely Time Warner's studio assets and HBO. "Remember, HBO is its own studio too," he said via email.
Sure, Fox might also be interested in Time Warner's cable networks division, Turner, which generates the biggest piece of the company's revenue and profit. Turner's highest rated networks are typically TBS and TNT, which both have rights to attractive sporting content, including NBA and Major League Baseball. Sport has been a major focus for Fox, which launched its own rival to ESPN, Fox Sports 1, earlier this year.
But the main focus appears to be HBO—and the potential for what Fox could do with the business in terms of internet-only packages, is tantalizing, for investors and consumers alike. "[It's] HBO that's the driver, and I think that's the Holy Grail that Rupert had his eye on," Porter Bibb, a managing partner at Mediatech Capital Partners, told Bloomberg.