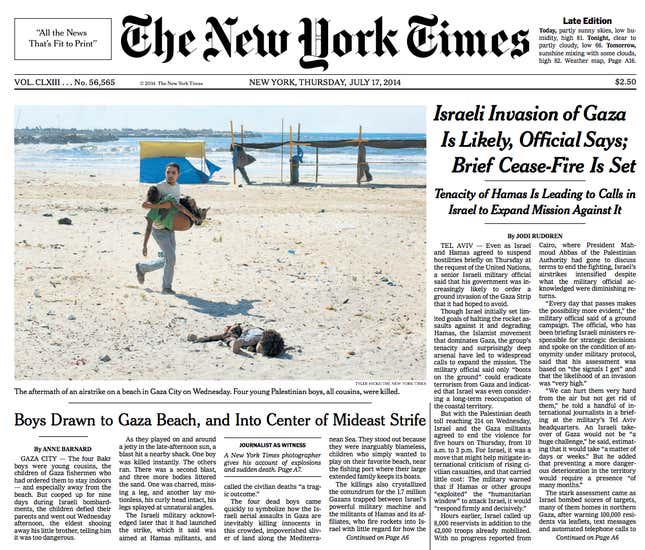 The featured photo on the New York Times front page (paywall) today is of a child in the sand, "his curly head intact, his legs splayed at unnatural angles." The boy is one of four Palestinian cousins who were playing at the beach when they were killed in an Israeli attack aimed at Hamas militants in Gaza. The attacks further increased tensions and made the possibility of a lasting cease-fire seem even more remote.
There have been more than 40 children killed in the recent Israeli air strikes (paywall) in Gaza (and hundreds more in recent years), but it is rare that images of civilian deaths, especially those of children, reach an international readership. These blasts happened in front of the hotel where Tyler Hicks, a veteran New York Times photographer who has covered many conflicts for the paper and was held captive in Libya in 2011, was staying.
Hicks photographed the aftermath of the airstrikes, which were in response to Palestinian rocket attacks, and he wrote a harrowing account of watching the attack take place. Here's his conclusion on whether the strikes were justifiable:
A small metal shack with no electricity or running water on a jetty in the blazing seaside sun does not seem like the kind of place frequented by Hamas militants, the Israel Defense Forces' intended targets. Children, maybe four feet tall, dressed in summer clothes, running from an explosion, don't fit the description of Hamas fighters, either.