Russian deputy foreign minister Sergei Ryabkov took the latest round of US and European sanctions against his country in stride in comments today: "There is no fuss," he said. "We have a calm and measured attitude to this."
The markets weren't so sanguine, with Russian stocks recording their biggest one-day drop this year since the worst of the fighting in Crimea. With few signs of a de-escalation of the conflict between Ukrainian forces and pro-Russian militias in the east of Ukraine, the threat of steadily tighter sanctions will probably weigh on Russian assets for some time to come. (News of the crash of a Malaysian Airlines plane over Ukraine, and accusations that it was shot down, came after Russian markets closed.)
The dollar-denominated RTS index was down by around 4% today:
The US will "slowly starve" key Russian banking and energy groups from dollar-based funding markets, barring them borrowing beyond 90 days. A clutch of defense companies was also blocked from doing any sort of business with US entities. "The Russian leadership will see, once again, that its actions in Ukraine have consequences, including a weakening Russian economy and increasing diplomatic isolation," US president Barack Obama said in a speech.
The EU, meanwhile, cut off financing for public projects in Russia by development lenders EIB and EBRD (pdf). It will also work on changing its rules to allow company- and sector-based sanctions like those imposed by the US, possibly as early as the end of this month.
In Moscow trading today the two energy companies targeted directly by the US, Rosneft and Novatek, saw their shares sink. Given the size of the oil and gas giants, the drop wiped out around $8 billion in market value. If you also include Gazprom, which owns a big chunk of Gazprombank, a lender named in the new sanctions, some $12 billion in value vanished today, thanks largely to sanctions, and more than $20 billion vaporized in this month alone: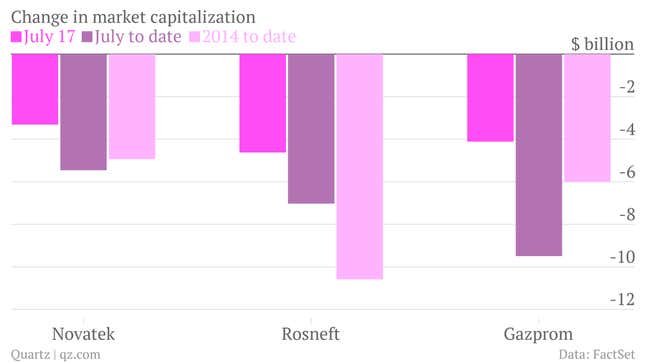 Russian officials are not taking the punishment lying down. President Vladimir Putin warned of a "boomerang effect," with sympathetic local executives saying that they will now shun Western partners for projects in Russia. Prime minister Dmitry Medvedev called the sanctions "evil," and warned of a renewed Cold War in which Russia would be compelled to "put more emphasis on strengthening defense and security." It also didn't take long for someone—in this case, the chairman of Rosneft—to suggest that sanctions could be a good thing for the Russian economy, spurring it to modernize.
Thus far, Russian officials have responded to Western sanctions with tough talk but little action. The complex, sector-wide sanctions that just sank some of Russia's largest stocks could provoke a stronger response. "We are not going to tolerate blackmail, and reserve the right for retaliatory measures," Russia's foreign ministry said in a statement.