The Spotify IPO rumors may have quietened down, but the company's global expansion continues, and its hiring activity continues to raise eyebrows in the music industry.
Last week the company re-posted the compliance officer job that set off the IPO chatter in the first place, and Reuters noticed. But there's another job opening at Spotify that arguably is just as significant—if not more so—to the streaming music service's future.
The company is hiring a public relations professional in Tokyo for not-yet-opened office in Japan. Spotify has been advertising the job for a while—252 days, according to LinkedIn. A spokesperson confirms the company is still looking to fill it (and declined to comment further on the company's plans in Japan). The hiring effort suggests Spotify is keen to drive consumer awareness of its brand in what is the world's second-biggest market for music, and third-largest economy.
An expanding global footprint is sure to be a part of the Spotify growth story, if and when it decides to go public. The company launched in Brazil in May, and has widely telegraphed a move into Russia (where it is also hiring someone to handle relationships with labels). A launch in Canada also is imminent—the company recently invited potential users there to try out the service before an official launch.
But a push into Japan would be on another level entirely. Japan's recorded music market was worth $3 billion in 2013, according to the International Federation of the Phonographic Industry. That was second only to the US, where music industry revenue reached $4.5 billion last year. Japan and South Korea are the only major recorded music markets  left where Spotify does not yet have a presence.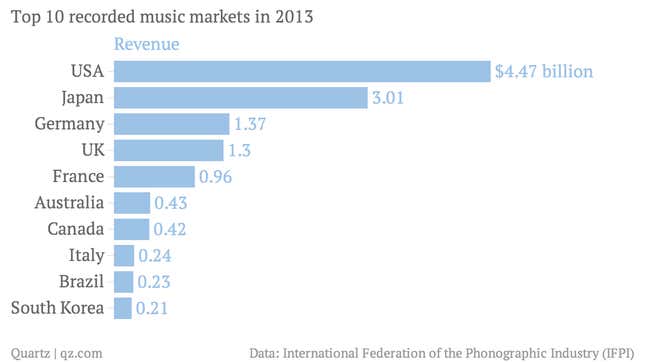 Spotify already is live in a handful of Asian countries (Hong Kong,Singapore, Taiwan, and the Philippines). Local reports suggested it would launch in Japan last year, but that never transpired, and the company has refrained from commenting on plans to enter the country.
Even though it presumably will have a Tokyo office soon, it could be a long time before Spotify is actively selling its product and seeking advertisers in Japan. Spotify is notoriously obsessive about not launching in new markets until it has signed enough deals with content owners (i.e. record labels) to offer a credible service. Its 2011 launch in the US, for example, followed repeated delays.
Japan's recorded music market is unique in many ways. Industry revenue fell sharply last year as ringtone downloads (which are still an outsized piece of the pie there) declined. Japan also is a very domestic focused market, in terms of consumer tastes.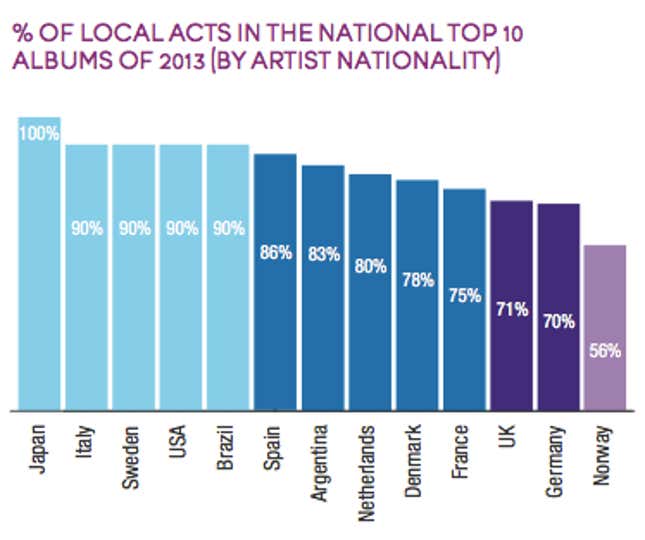 Nevertheless, the potential for streaming music services to take hold there could be enormous: smartphone adoption rates are high and broadband quality is excellent. And existing, local streaming services have not cut through yet: subscription services in Japan accounted for just 7% of total industry digital revenue last year, according to IFPI, compared to 13% in the US (where ad-supported services accounted for another 7%), and 94% in Sweden.