Since a gigantic cruise liner ran aground off its coast in January of 2012, the inhabitants of Isola del Giglio have lived with its hulking carcass looming over them, a grim reminder of the accident that killed 32 people. At twice the size of Titanic, the Costa Concordia was passing too close to the Tuscan island when it hit a rock and partially sunk. It has remained there ever since.
On July 20 or 21, the tragic eyesore will finally be removed, part of the biggest salvage operation in history, now in its final phase. By the time it's completed, the enormous public works project will have injected more than a billion dollars into the Italian economy.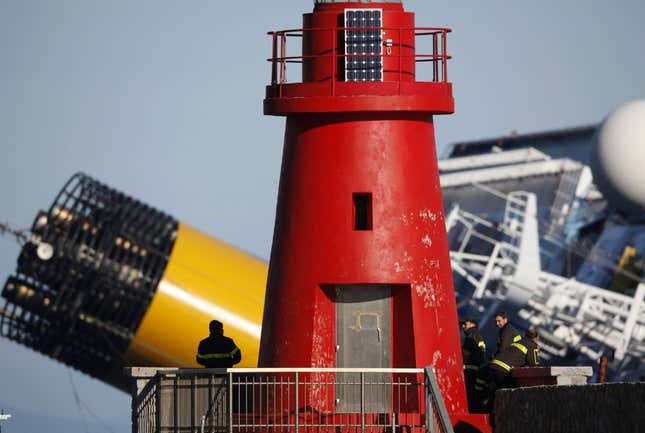 The ship, whose captain Francesco Schettino infamously abandoned it before his passengers were evacuated and is being tried for manslaughter, cost the Genoa-based cruise line Costa Crociere 450 million euros ($600 million).
The salvage operations started in February of 2012 with the removal of the 2,400 tonnes (5,645 tons) of oil, averting what could have been an enormous natural disaster on the Italian shoreline. Then, in September of 2013, the ship was tilted upright and put to rest on a platform, waiting for its removal.
The last phase of the operations started on July 14 and the ship is finally afloat again. On July 22, it will be towed 370 kilometers (230 miles) to Genoa. There it will be dismantled, a two-year operation that will provide work for hundreds.
The cost of the salvage operation so far been approximately €1.1 billion ($1.5 billion), though estimates say the total bill for Carnival Cruise, the British-American company that owns Costa Crociere, will be about €1.5 billion ($2 billion).
Most of this—an estimated 61%—will be spent on Italian goods and services, Costa Crociere CEO Michael Thamm pointed out in a recent press conference. The note may seem a bit distasteful, but these are tough times for Italy's economy, and every little bit counts.
This point is not lost on Italian government officials. While emphasizing that this has been a tragic chapter, Italy's environment minister Gian Luca Galletti made sure to underline that the Italian handling of the operation has been a success for the country. Several foreign ports (including in Norway, UK and Turkey) had put in bids to handle the ship's dismantling, and the port of Izmir, in Turkey, had even offered to do the job for €40 million, half of Genoa's price of €80 million. Still, Genoa won the commission because of its geographical and infrastructural advantage.