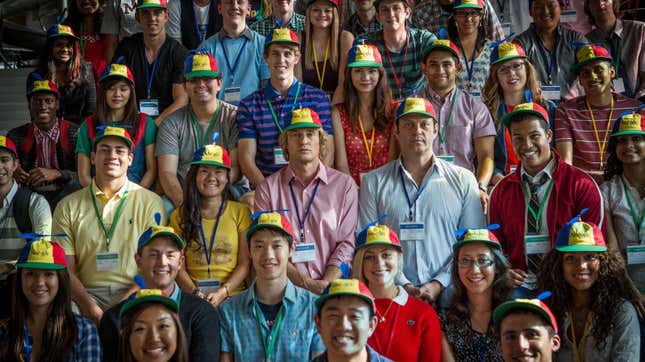 It's not a full-blown brain drain yet, but the steady leak of talent from Google's Mountain View headquarters continued yesterday with the poaching of its head of investor relations, Jane Penner, by the soon-to-IPO Chinese e-commerce giant Alibaba. Like many of her fellow ex-Googlers, Penner will stay put in the Bay Area, even as she reports for work at one of the many Asian tech giants who have been poring over Google's employee directory.
Asian firms aren't the only ones mining Google for talent, of course—Facebook's Sheryl Sandberg and Yahoo's Marissa Meyer are also notable ex-Googlers who were poached by competing firms. But the common thread between Alibaba, Softbank, Xiaomi, and Baidu is that they are seeking to expand beyond their home countries, and are looking for the management acumen that a background in Silicon Valley can provide. Some of these same Asian firms are also making big investments into US-based tech startups, and hiring big-name Silicon Valley employees gives them instant credibility as they court new partners and investors.
Here are some of the other former Googlers who followed the advice Penner gave to a group of Stanford students last year, as she explained how she went from a PhD program in English to Google's head of investor relations—"to be open to the unexpected":
Softbank: Nikesh Arora
Last month, Japanese tech giant Softbank hired Google's high-powered head of business operations. Arora was once Google's highest-paid employee and his recent wedding was attended by Google founders co-founders Larry Page and Sergey Brin as well as Facebook boss Mark Zuckerberg (also: Ashton Kutcher). Arora will become a vice-chairman at Softbank—which has businesses ranging from Japanese telecoms to a big chunk of Alibaba to a robot that understands feelings—and run its newly formed US internet and media subsidiary, based in Silicon Valley.
Xiaomi: Hugo Barra
The Chinese smartphone maker, now the fifth-largest in the world, hired the former Google Android executive a year ago as it prepared for a global roll-out of its full-featured but low-price phones in Asia and Latin America. As the head of Xiaomi's business development, Barra has orchestrated the Xiaomi's expansion to countries like Singapore and India, as well as evangelizing China's rapidly developing tech scene. Recently, Barra has been front and center defending Xiaomi from accusations that the company's latest Mi4 phone is an iPhone copycat, and that the company's MIUI operating system was secretly uploading user data.
Baidu: Andrew Ng
The Chinese search engine giant hired Ng, who ran the "deep-learning" project known as Google Brain, in May. Ng is also the director of Stanford's artificial intelligence lab, and co-founder of the massively open online course company Coursera. (You can take his Coursera class on deep learning here.) At Baidu, Ng took on the title of chief scientist at the company's Silicon Valley R&D Center, where he's working on making the company's search results more accurate.