The numbers: Steady. For VF Corp, the company whose brands include Timberland, The North Face, Vans, Nautica, and Wrangler, quarterly net sales rose a respectable 8% to $2.4 billion in the second quarter, compared with $2.2 billion in 2013. Profits grew by 14%, to $158 million.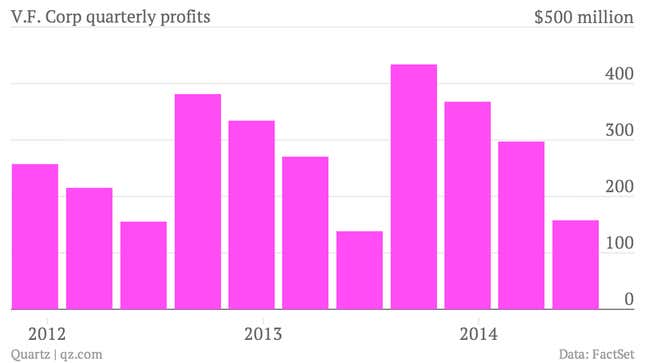 The takeaway: Activewear is driving the apparel business at large. The Gap's CEO called the category "the new denim" in February and VF Corp's results reflect just that. The company's outdoor and action sports labels such as Vans, The North Face, and Timberland outperformed its denim brands—Seven for all Mankind, Wrangler, and Lee—in the second quarter.
What's interesting: The skateboarding brand Vans pushed VF's success in the action sports category. Vans' classic slip-on canvas shoes—first made famous by Sean Penn in the 1980s classic film Fast Times at Ridgemont High—have been having a fashion moment, and quarterly sales at the brand shot up 21%, year-over-year.
Growth was strongest in the Asia-Pacific region, rising by more than 40% (on the back of 40% growth in Asia last quarter), compared with numbers in the teens in Europe and the Americas. The company seems to be pushing for an Asian skate boom, raising brand awareness by sponsoring parties and skate parks in South Korea and making videos and multimedia features about youth culture in China.
Skate Cruise Korea from Tom Krawczyk on Vimeo.
If the video above—not sponsored by Vans to our knowledge, although the skater does appear to be wearing the brand's shoes—is any indication, the back alleys of Haebangchon in Seoul, South Korea are well-suited for the sport.