Last night, the German artist Oliver Bienkowski and Anonymous, the anarchist hacking group, projected an image of Barack Obama with a backwards baseball cap and the words "NSA in da house" onto the US embassy in Berlin. Not the cleverest piece of protest art ever executed.
The police closed down the show after five minutes. This isn't the first time Bienkowski has targeted the US embassy; last July, he projected the words "United Stasi of America." And last October during the Berlin festival of lights, the embassy itself projected images of Martin Luther King Jr. and John F. Kennedy on its exterior.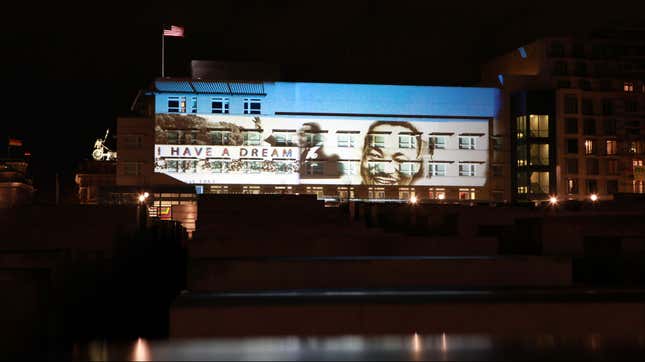 No-one should be surprised that Germany remains unhappy about the NSA spying on them (and everyone else). Last week, Germany expelled the head of the CIA station in Berlin after finding evidence that two officials in the German state security apparatus were passing information to the US. Relations between both countries are as strained as they have been since Germany opposed the war in Iraq. Some lawmakers are even mulling returning to typewriters to avoid being spied on.