LOS ANGELES—Americans are watching more television than ever. They're just doing it on their own schedule.
That was the big takeaway as research gurus from CBS, FX, Fox, and Showtime spoke to reporters at the Television Critics Association's summer press tour about the evolving television landscape, and how audiences actually watch TV now.
"We're in a new era of television," said David Poltrack, chief research officer for CBS, noting that weekly TV viewing has increased 2% over the last three years, from 35 hours and 36 minutes to 37 hours and 50 minutes. "This is a golden era of television content, and the public is embracing television and engaging with television in a way that they never did before, because it is so much good programming."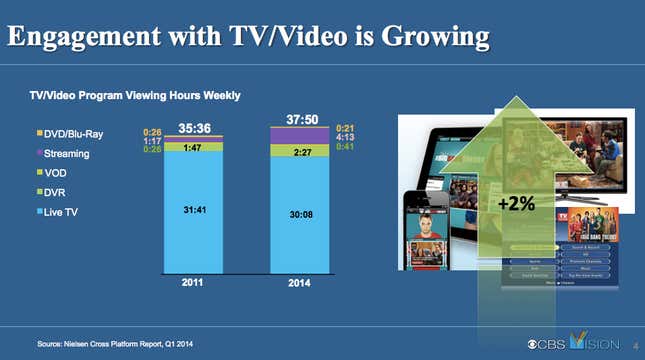 "New distribution means new access. New access means bigger audiences," said Poltrack. In just three years, the percentage of viewers watching live TV has fallen from 89% to 80%, while streaming over the internet has increased from 4% to 11%, and DVR viewing has jumped from 5% to 6% of total viewing.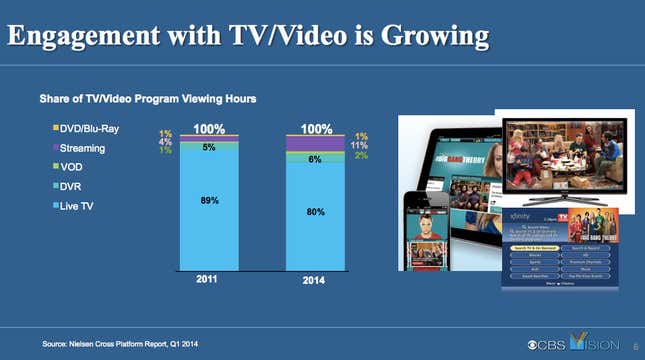 Despite this shift, a show's ratings are still reported the day after it first airs, the same way they always have been, using the live-plus-same-day metric (which includes DVR viewing the same night of a show's premiere).
The average jump from a live-plus-same-day rating to a live-plus-seven number, which factors in DVR use over a seven-day period in addition to the initial "live" tune-in, "is about 40% across all four [broadcast] networks" for adults ages 18 to 49, said Will Somers, senior vice president of Fox Network Research. "Five years ago, the average level for the four networks would be about 13% gain. So these numbers have about tripled over that five year period."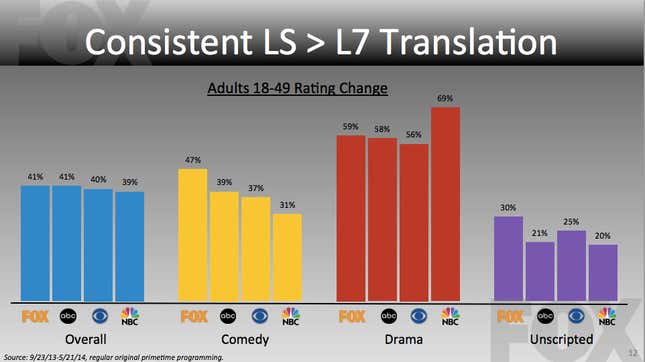 To explain, Somers broke down the ratings for Fox's biggest new show last season, Sleepy Hollow. Its premiere episode was watched by an impressive 10.1 million viewers live-plus-same-day. But after adding in live-plus-seven and three days of video on demand (an additional 5.3 million), VOD numbers from day four and beyond (2.8 million) and streaming figures via Hulu (1.8 million) and Fox's own website (0.3 million), that number doubles, to 20.2 million. If the network was content with live-plus-same-day ratings, "we'd basically be just counting half of the audience," said Somers.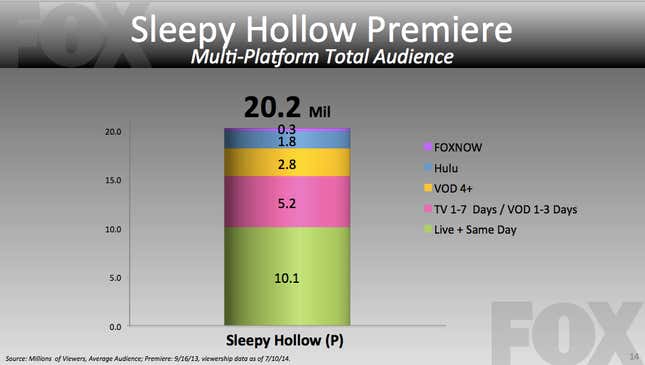 Less than that, in fact, considering that the number continues to grow almost a year later. "There were over a million views of Sleepy Hollow in the 30-day-plus window," said Somers, including more this summer as Fox makes a "summer binge push" for viewers to catch up before the new season.
Yet the best indication of how drastically viewing habits have changed in the past decade is by looking at how the audience for Fox's 24 has evolved. When the Kiefer Sutherland drama debuted in 2001, it averaged 11.6 million viewers live-plus-same-day, with no other metrics in existence. By the show's season eight finale in 2010, it pulled 9 million in live-plus-same-day, and just under 1.5 million in live-plus-seven (and three days of VOD), for a total of 10.4 million.
When it returned this May as an event series, 24: Live Another Day earned 8.1 million live-plus-same-day, but live-plus-seven/three days of VOD (3.4 million), VOD from day four and beyond (0.3), Hulu (0.6) and Fox's website (0.1) brought that tally up to 12.4 million. "Pretty good illustration, I think, of how the environment and ecosystem has changed," said Somers.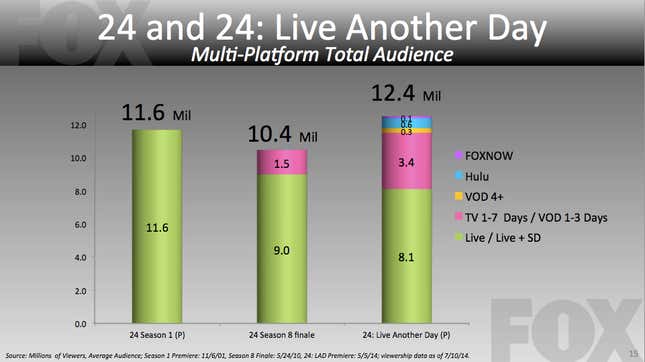 That change is happening even more rapidly on basic cable networks like FX, where many  series now nearly double their audiences when comparing live-plus-same-day and live-plus-seven numbers. While 77% of Sons of Anarchy's audience watched that show live-plus-same-day in its first season, that figure dropped to just 43% by the sixth season last fall, as more FX viewers opt to catch up with the network's programming later in the week via DVR and streaming options.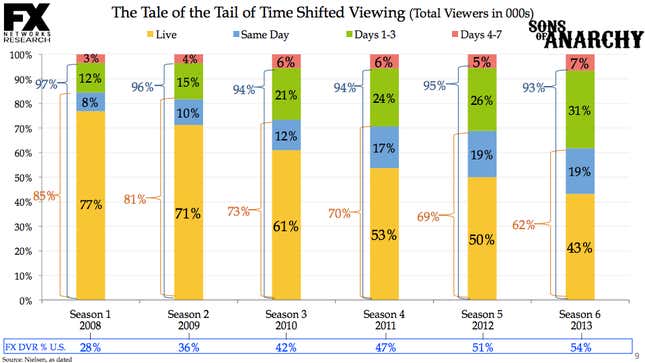 That's a reality that premium cable services like Showtime, which aren't ad-supported and were therefore quicker to embrace VOD and DVR features, have been happily embracing for years now. While 69% of the audience for Dexter's first season in 2006 watched the show live, "the proportion of live viewing over the course of the week is almost the mirror opposite of what it was in 2006," said Kim Lemon, executive vice president of program planning, scheduling and research at Showtime Networks.
During Showtime's most recent season of Homeland, "30% is basically coming in live, 70% is coming in on a delayed basis." And for some of Showtime's Sunday shows, that debut live rating is "sometimes only 15% of what our ultimate weekly number will be," said Lemon.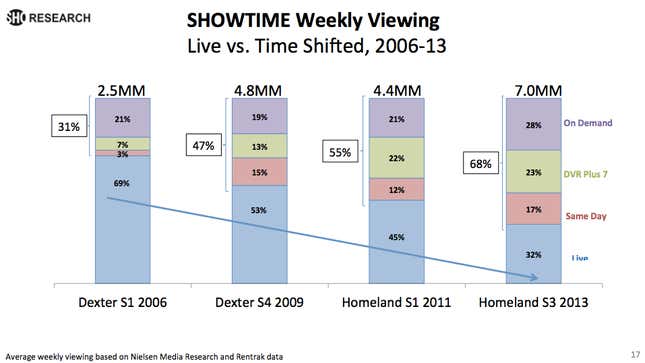 The takeaway: Next-day ratings only tell a small part of what is increasingly a very lengthy story. "If you were a sports reporter, you wouldn't report the winner based on the third inning score," said Poltrack, "and that's what you're doing right now if you're reporting on live-plus-same-day ratings."