Hong Kong property mogul Li Ka-Shing, who recently said that inequality keeps him awake at night, is building his next property venture for Hong Kongers who are willing to buy even the tiniest apartment imaginable.
Li's development company Cheung Kong will start selling "micro-apartments" for between HK$1.94 and HK$2 million ($250,000 to $260,000) a unit on July 26. The 196 mini flats, part of a larger development (pdf) of 1,071 units, are among the cheapest in Hong Kong and less than 200 square feet, or around 18 square meters. The smallest of the apartments come with usable area of just 177 sq. ft, including a 97 sq. ft living room, a 13 sq. ft kitchen and a 31 sq. ft bathroom. That's only about 50% bigger than a Hong Kong prison cell, as the South China Morning Post helpfully pointed out.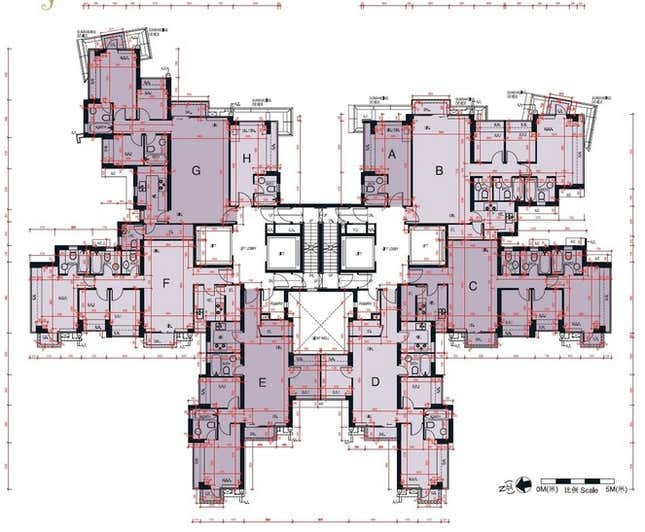 Hong Kong is one of the world's densest cities and the third most expensive to buy a home. That's one reason why its become infamous for small living spaces, from cages that serve as apartments to "cubicle homes" and studios so small, they can only be photographed from the ceiling.
So far, Li's development, Mont Vert, which is aimed at the city's middle class families, has received more than 4,200 applications for just 196 units on sale in the development's first phase. That's despite the fact that buyers haven't been able to even look at a model of the actual apartment they'll be purchasing. Hong Kong law requires that developers make all units available to prospective buyers but companies can get around the rule if they demonstrate that viewing is not feasible. (The Mont Vert site is still under construction and visiting it could be unsafe, Cheung Kong has said.)
Some Hong Kong residents said the apartments were still too expensive for their size. "The apartment is so small, it's not enough to be a storage room, much less a place to live," one woman commented on a popular Hong Kong discussion forum.
Another criticism of the development is that it's not in an urban center of Hong Kong, but in a northern district at least an hour from central Hong Kong, on land that was formerly used for farming. The development is just north of a cemetery, a power plant, and a public utility installation, according to Mont Vert's website.