So much for delivering a "deathblow" to Herbalife. That's what the hedge fund manager Bill Ackman vowed to do on CNBC yesterday, prior to his screed against Herbalife today, which lasted more than three hours. After promising to offer the clearest evidence to date that the international nutritional club is a giant pyramid scheme that preys on Latinos, the hedge fund maestro didn't deliver a smoking gun incriminating the Los Angeles, California-based company.
At least, that's what investors seemed to conclude, based on the trajectory of Herbalife's stock during Ackman's speech, at the AXA Equitable Center in midtown Manhattan. Herbalife's stock soared during Ackman's presentation, and was up nearly 18% since this morning, largely erasing the 7% drop in its share price ahead of the Ackman event.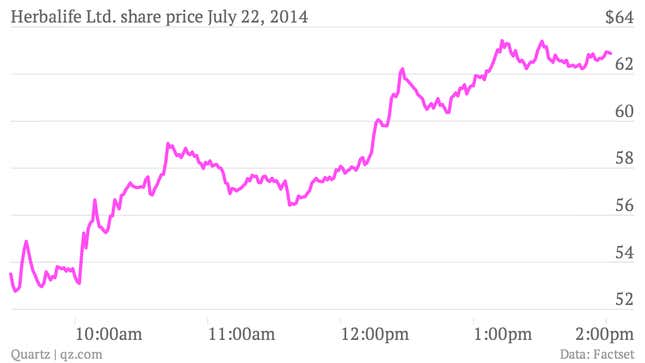 Herbalife executives didn't appear worried about Ackman's threats: "It's always the bark is worse than the bite," said John DeSimone, Herbalife's chief financial officer, on CNBC today before the presentation started. After Ackman wrapped up, the company released the following statement: "Once again, Bill Ackman has over-promised and under-delivered on his $1 billion bet against our company. After spending $50 million, two years and tens of thousands of man-hours, Bill Ackman further demonstrated today that the facts are on our side."
Using dozens of slides and video, Ackman charged that Herbalife is the biggest fraud since the collapse of the one-time energy giant Enron back in 2001. He declared at one point that Herbalife has "fake customers."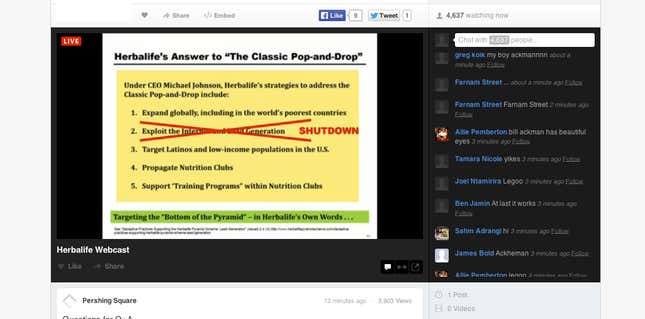 There were some strange moments in the presentation. At one point, Ackman fielded questions from his own father, sitting near the front row of the conference room, which was packed with some 300 attendees, comprised of reporters, industry players, students, employees of Ackman's Pershing Square Capital Management, and others just fascinated by the whole affair.
It's unclear why Herbalife saw the boost—which likely lifted the company's market capitalization by about $5oo million—during Ackman's speech. Ackman has been doggedly pursuing Herbalife for the past 18 months, so the lack of definitive proof of a fraud at the company might have come as a relief for its long-term investors. A lot of bad news about Herbalife already has emerged, including the fact that it is being investigated by the Federal Trade Commission.
For Ackman's part, the prominent hedge fund investor has a lot at stake in bringing down Herbalife. Back in 2012 he placed a $1-billion bet that the company would collapse, and other hedge fund luminaries, including Carl Icahn, have taken the opposing position.
Asked why he thought Herbalife's stock was trading up after his presentation, Ackman shrugged it off, saying it didn't surprise him at all: "We're not in this thing for the short term," he said. "You can only prop up the stock for so long." He added that he thought now would be a great time to sell.
He also criticized the financial press for taking what he considers the wrong approach to the Herbalife story."The media has not done a proper job investigating this company," Ackman said. "I would advise you not to look at the stock price. I would like you to look at the facts."