Flipkart, the Indian e-commerce company founded in 2007 by two Amazon alumni, will announce that it has raised $1 billion in fresh funding, reports The Economic Times, an Indian business newspaper, citing "two people aware of the development."
(Flipkart didn't immediately reply to a Quartz request for comment, and declined to comment when contacted by Medianama, an Indian tech blog.)
From the Economic Times:
Half of the amount will come from existing investors Tiger Global, Russian billionaire Yuri Milner's DST, and Accel Partners, while the rest will come from several new investors.
If the report is accurate, this will be the biggest-ever funding round by an Indian company, and indeed one of the biggest ever worldwide, second only to Uber's $1.2 billion round in June 2014. But unlike Uber, which was valued at $18.2 billion, Flipkart's funding round will reportedly value it at a more modest $5 billion.
The report should be treated with some caution: The Economic Times has a record of being overenthusiastic in its reporting of Flipkart. In May, the same reporter wrote that the e-commerce business would raise $500 million. The round eventually closed at $210 million (pdf).
But at even half the reported amount, the investment round is a giant one. There are reasons to believe it is a sensible move. Estimations of the size of the Indian e-commerce market vary wildly. At the lower end, Technopak, an Indian consultancy, estimates the market was worth $1.5 billion in 2013. Accel Partners, one of the named investors, reckons it is closer to $2 billion. CLSA, a brokerage, puts it at $3.1 billion. Kunal Bahl, the CEO of Snapdeal, Flipkart's main competitor, told Quartz it is between $3 billion and $4 billion.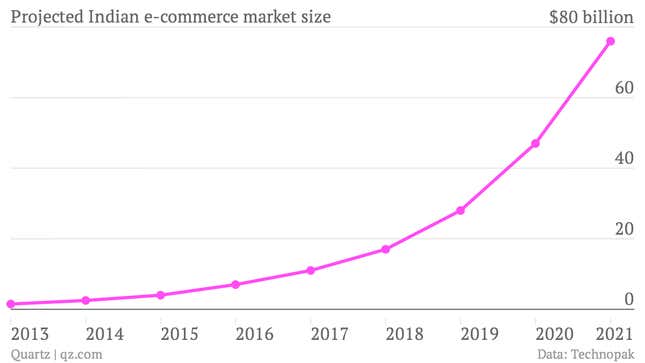 Yet if they can't settle on the size of the market now, pretty much everybody agrees that it is set to explode. "I would put my money on $50 billion by 2020," says Bahl. He cites the boom in smartphone sales, which are driving consumption: "Of the people who buy from us on mobile, 60% have never bought anything from us before."
Other projections for growth are similarly rosy: Accel in April made a strong case for Indian e-commerce growth in the coming years, forecasting that Indian online shoppers will double to 40 million and their spending with quadruple to $8.5 billion by 2016. CLSA forecasts that it will expand to $22 billion in five years. Technopak, like Bahl, sees the market size expanding to nearly $50 billion by 2020.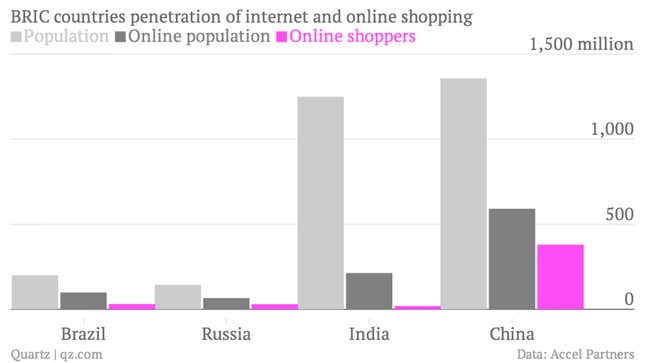 Then there's the competition. In 2011, it seemed like every auntie in New Delhi wanted an e-commerce business of her own. Bahl says there were 900 e-commerce start-ups operating that year. But after a spate of buyouts, closures, and even arrests last year, the market has now fully consolidated. Flipkart and Snapdeal are the biggest e-commerce firms left standing, with Amazon and eBay vying for a toehold. Whether Flipkart just raised $1 billion of half that amount, there are many reasons to think its investors have made a smart bet.
Correction: A previous version of this post said Flipkart held inventory. It has shifted over to the marketplace model.