The numbers: Good. Facebook reported $2.9 billion in second-quarter sales, slightly ahead of expectations, representing 61% year-over-year growth. Profit more than doubled year-on-year to $791 million. Facebook now has 1.3 billion monthly active users and 829 million daily active users. Shares rose in after-hours trading.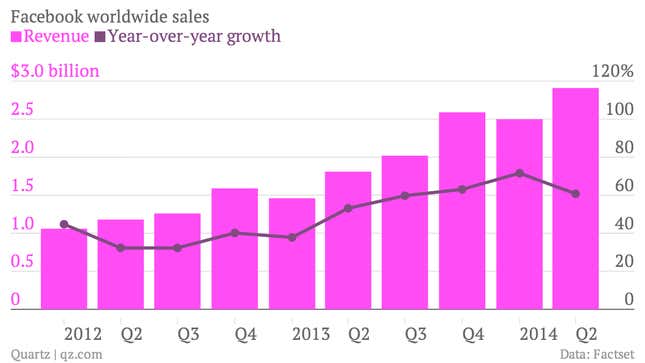 The takeaway: No fad here. Facebook's product and platform continue to rise in popularity, and its advertising business is humming along. The average Facebook user generated $2.24 in revenue last quarter, up from $1.60 a year ago. Mobile advertising revenue represented about 62% of ad sales during the quarter, up from 41% of ad sales a year ago.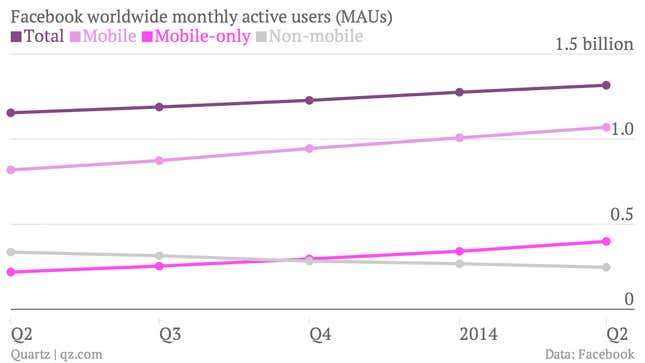 What's interesting: Perhaps unsurprisingly, mobile usage is the growth engine for Facebook. In the second quarter, Facebook reported 399 million mobile-only users—that is, users who never use Facebook on a desktop. That was up 180 million from the prior year. Moreover, a broader category of mobile users—who aren't necessarily mobile-only users—increased even more, by 251 million to 1.1 billion. Mobile-only users represented 30% of Facebook's total users last quarter, up from 19% of its users a year ago.