This post has been corrected.
Nearly two decades ago, Americans' support for both marijuana legalization and same-sex marriage was virtually equal. About one-quarter of US citizens was in favor of each, according to Pew Research Center polling at the time.
But that year, 1996, the two movements seemed to be at very different crossroads. In September, US president Bill Clinton signed into law the Defense of Marriage Act (DOMA), which denied federal recognition of same-sex marriages. Two months later, California passed Proposition 215 and became the first state in the US to legalize medical marijuana.
It turned out the two movements were at crossroads, but not the ones it seemed at the time. Today a majority of Americans support marijuana legalization for recreational use and same-sex marriage. But only Colorado and Washington State have legalized marijuana, while same-sex marriage is now legal in 19 US states and in the District of Columbia.
How did gay-marriage advocates accomplish the broad success that marijuana supporters can only dream of?
One popular view is that, over the last decade, attitudes toward both gay marriage and marijuana legalization have dramatically shifted as a more-tolerant millennial generation has come into its own and begun to shape American public opinion. However, the story behind the success of the gay-marriage movement offers different lessons about the levers of change in the American political system.
Follow the money 
The US gay-marriage movement began decades ago to little fanfare, but today counts a majority of America's richest and most politically influential people and corporations among its backers. It is now well understood in Washington that Democratic Party candidates cannot win funding from prominent party fundraisers without stating their support for marriage equality, say top party strategists. The movement has moved from the fringes of American society to comfortably within the American political and cultural mainstream.
In addition to president Barack Obama's now-explicit support for gay marriage, there are seven openly gay members of Congress, a tiny fraction of the 535 members but the highest in history. Out gay men and lesbians are more visible and increasingly in positions of power. There's Annise Parker, the mayor of Houston, the nation's fourth-largest city and home to the Bush family dynasty; Ellen DeGeneres is host of one of the most-watched daytime TV programs in America.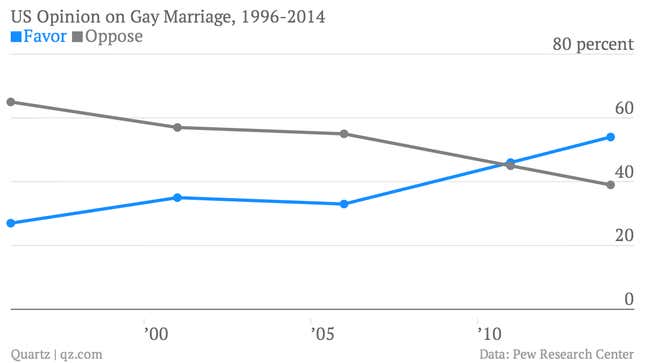 Five years ago, support for gay marriage was at just 37%, while today 54% of Americans are in favor of marriage equality. Though the gay community still faces discrimination and homophobia, this is a massive shift in US public consciousness. It is probably due to a myriad of factors, but chief among them, critics say, is that the gay-marriage movement learned to play the game for influence in American politics: raising money for political candidates.
Gay-rights groups, political-action committees and individuals sympathetic to LGBT issues gave over $6 million in contributions to political campaigns in 2012, according to the nonpartisan Center for Responsive Politics. That's not to say that this funding drowned out opposition voices or that there wasn't a genuine increase in support among Americans for same-sex marriage in recent years. But it helped build political support more quickly than decades of grassroots activism could have, says Ethan Nadelmann, executive director of the Drug Policy Alliance, which advocates marijuana legalization.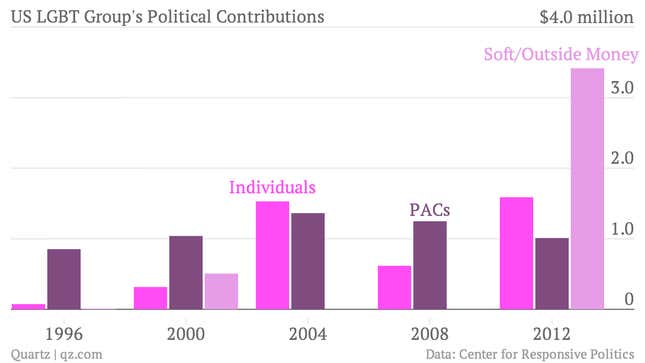 "As a movement, what we're trying to learn about more from the gay-rights movement is how they were able to mobilize wealthy gay individuals or those sympathetic to their causes to further engage in the political process," said Nadelmann, who Rolling Stone calls America's "real drug czar." "Money is king in American politics," he told Quartz. "In order to reach the mainstream, you need people within your movement who have influence, who are politically connected, who have the chance to put the message in the ears of those in elected office."
In 2012, in two of three states that considered ballots to legally recognize gay marriage, supporters raised millions more than their opponents. In Washington state, voters passed referendum 74, a measure that was backed by $13.7 million in donations. Amazon CEO Jeff Bezos and his wife MacKenzie gave $2.5 million. In Maine, supporters of a measure to repeal Maine's ban on same-sex marriage raised nearly $9 million, with a large majority of that money coming from out-of-state gay rights groups, versus roughly $2.6 million for opponents.
The financial support has persuaded politicians to back similar measures in other states, said Nadelmann, who acknowledges that the disparity between funding for marijuana-legalization and gay-marriage initiatives is vast. The gay-marriage movement, he explains, sought out financial resources and won in states where its grassroots activism was historically minimal. He cites Washington state specifically as an example: despite the fact that only a slight majority of Washingtonians supported same-sex marriage, the well-funded referendum overwhelmingly passed.
"I have a tremendous amount of respect for those in the gay-rights movement," Nadelmann said. "What they did in 2012 and really what they've done over the last decade has been nothing short of remarkable."
The pursuit of funding and friends in politics
Last October, a Gallup poll showed that 58% of Americans supported marijuana legalization for recreational use. That was the first time in the poll's history that a majority of Americans supported legalization.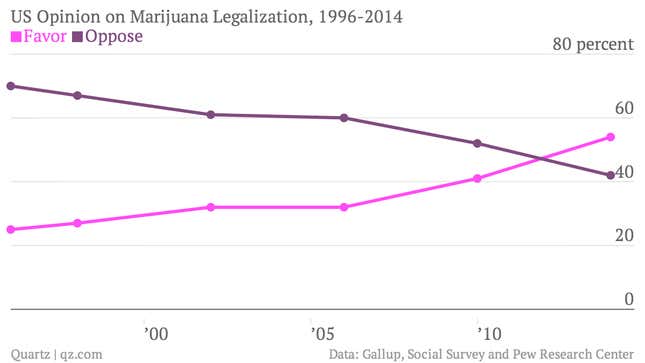 The question now for Nadelmann and other leaders in the US marijuana-legalization movement is how to convert that into wins in more states.
With the gay-marriage movement, success in the courtroom has clearly been a factor: last June, the US Supreme Court struck down a key part of the Defense of Marriage Act, which denied same-sex couples married in states that allowed it to federal benefits afforded to heterosexual couples. The decision emboldened the gay-marriage movement to unprecedented successes in the courts in conservative states from Utah to Indiana.
The marijuana legalization movement could follow the same route, challenging state marijuana prohibitions across the country. But, without the Supreme Court weighing in on the issue nationally, that could potentially take many years.
Then there's the funding issue, which may mean an existential crisis for backers of marijuana legalization. Can it maintain its image as an established grassroots movement while also cozying up to the nation's wealthy and political elites like supporters of gay marriage have? Welcoming support from people in power will grant them a greater role in dictating the movement's agenda, an issue that Nadelmann admits could be troubling.
Major political actors who could help the legalization cause with organization and funding are civil-rights groups. The National Association for the Advancement of Colored People (NAACP) has said that the criminalization of marijuana disproportionately affects African-Americans and other communities of color, which makes it a civil-rights issue. An estimated 750,000 people, disproportionally individuals of color, are jailed each year for marijuana-related offenses, according to the American Civil Liberties Union (ACLU). In this respect, like their counterparts in the gay-marriage movement who used marriage equality as a structural answer to homophobia, the civil-rights leaders see marijuana legalization as a response to entrenched, institutional racism.
It's still unclear whether an alliance of civil-rights groups and marijuana-legalization advocates could align enough to become a machine for getting new marijuana laws passed across the US. But if the supporters of legalization want to achieve the success enjoyed by gay-marriage advocates, they'll need to tap into political networks and funding of that sort.
Correction: An earlier version of this post gave an incorrect name for the NAACP.