The numbers: Frail. During the first half, profits from recurring operations fell 5% at the parent of fashion labels including Louis Vuitton, Marc Jacobs, Celine, and Givenchy and spirit brands such as Moët & Chandon and Hennessy. Sales climbed a modest 2.7% to €14 billion ($18.9 billion).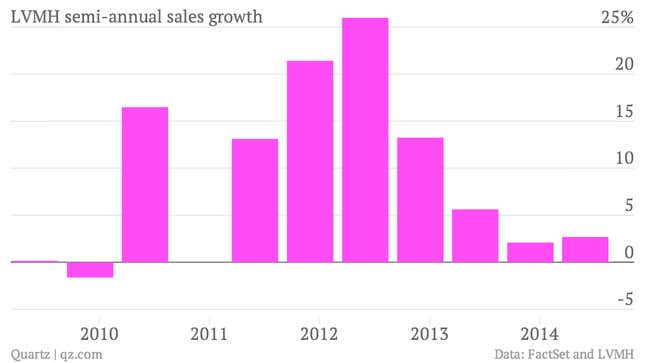 The takeaway: Unfavorable exchange rates took a €235-million bite out of LVMH's bottom line, thanks to a strong euro which has boosted costs of luxury manufacturing in Europe. "The cognac situation in China," as executives termed it during today's conference call, also weighed on results. As Quartz has reported, sales of cognac (such as LVMH's Hennessy) have taken a dive in China, amid an anti-corruption crackdown targeting corporate gifts and shady business dealings that take place at karaoke clubs and bath houses. LVMH's organic revenue growth in Asia—excluding Japan—decelerated sharply to 3% during the first half of 2014. That's down from 13% growth during the first half of 2013.
What's interesting: In October 2013, fashion designer Marc Jacobs stepped down as creative director at LVMH's flagship fashion house, Louis Vuitton, to focus on his eponymous brand, in which LVMH holds a majority stake. Chairman and LVMH CEO Bernard Arnault confirmed plans for an initial public offering for Marc Jacobs last fall. LVMH recently announced the appointment of Sebastian Suhl as CEO at Marc Jacobs. As COO at Prada, Suhl  helped see the Italian luxury house through an IPO in 2011. He also ran the brand's operations in Asia—which presently accounts for well over a third of LVMH sales.