An office, a secretary, some video-conferencing gear. It's a lot to ask at a jailhouse, right? But these are just the basics that the 66-year-old Indian billionaire Subrata Roy is requesting as he tries to auction off his iconic real estate properties around the world to come up with a whopping 100-billion-rupee ($1.7 billion) bail tab, Bloomberg reports. And the Indian court may grant Roy's requests.
An Indian supreme court judge, T. S. Thakur, has asked the government to respond to Roy's request for a decked-out jailhouse office space by Aug. 1, arguing that it's only fair to facilitate his efforts to raise bail money. "We should provide facilities to Roy to arrange money for bail," Thakur  said. "We can't keep him in jail and ask him to pay money. International buyers would be interested in these assets."
So how did Roy, who runs the Indian conglomerate Sahara India Pariwar, with assets of about $11 billion as of 2012, land in jail in the first place? It's all a rather sordid affair, in which Roy has been accused of laundering money for Indian politicians. Roy has been in Delhi's Tihar jail since March for failing to comply with a 2012 court order to repay 20,000 crores ($3.3 billion) to investors in a fund deemed illegal. Roy drew his investors from small towns and villages throughout rural India.
Here are a couple of the properties Roy is hoping to unload from his prison cell (or his prison office).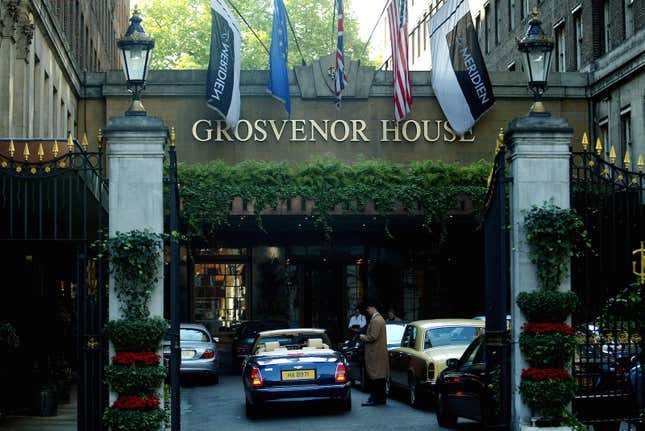 Grosvenor House Hotel, a famed London hotel built in the 1920s, could fetch $825 million or more, according to the Economic Times.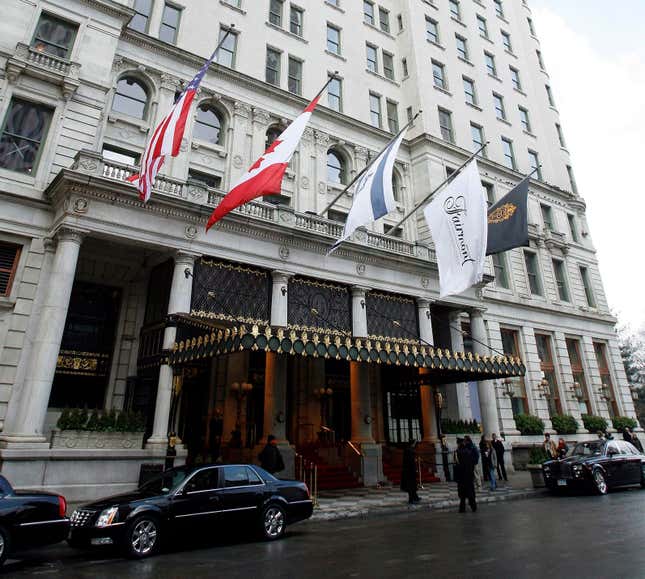 Sahara also owns a 75% stake in the iconic New York Plaza hotel in midtown Manhattan. The hotel could command a sale price in the neighborhood of $575 million, the Economic Times estimates.
Roy's current circumstances may put him at a significant disadvantage in real estate transactions, however, and some buyers may see his predicament as an opportunity to score a big discount. If so, that could cut into Roy's bail money fund.