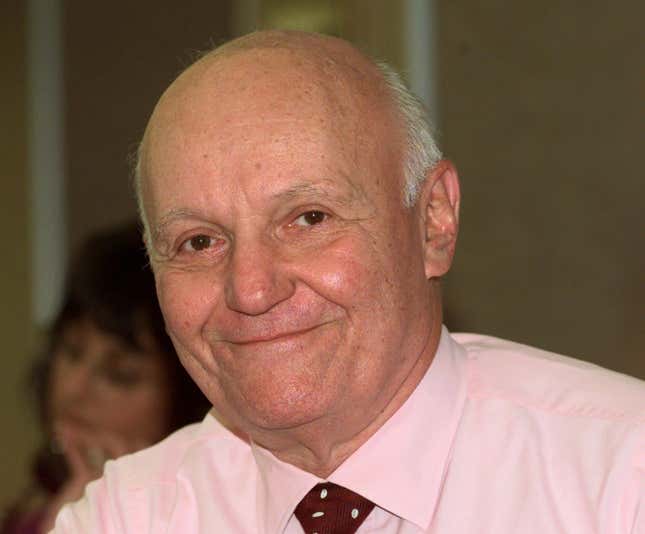 Wall St. legendary trader Alan C. Greenberg passed away today from complications due to cancer. The 86-year-old, nicknamed "Ace," helped to build Bear Stearns into a powerhouse investment bank to rival those of Goldman Sachs and Morgan Stanley, until it buckled under the in the maelstrom of the financial crisis, on March 17, 2008.
Greenberg started out at Bear Stearns as a mail clerk but hustled his way to the top–and it's that sort of bootstrapping, blue-collar banker culture that he brought to the investment bank. Greenberg's Bear Stearns wasn't focused purely on gilded status, family pedigree or Ivy League credentials.
Greenberg had his critics, who suggest that he may have been able to do more to prevent the collapse of the firm he presided over for nearly five decades until Jimmy Cayne took the reins from him as CEO in 1993. Greenberg directed much of the blame for the demise of Bear to Cayne, and later told Bloomberg Businessweek that his relationship with his protege, who was ousted two months before the bank collapsed, had deteriorated to such an extent that the CEO would disagree with nearly everything that he suggested.
Whatever your opinion of Greenberg was, he struck a unique figure on Wall Street–blunt and quirky, a prestidigitation-prone, bridge-playing elder. I met Greenberg on a few occasions, including once in his office at the former Bear Stearns building in Manhattan, where he held court (JPMorgan Chase acquired the building and kept Greenberg on as vice chairman emeritus).
Here are some of the enduring lessons to be learned from Greenberg and his life story:
Degrees and pedigree aren't a substitute for hard work and street smarts. Greenberg was rejected from a few Wall Street firms before landing at Bear.
Always manage your risks, and know when to fold 'em. Greenberg was known for firing traders who carried outsized risk or took big losses at the end of the trading day.
Keep meetings brief and to the point.
Always answer your own phone, no matter how high up on the corporate food chain you are.
If you're going to have a long career on Wall Street, find a little magic in your daily life.