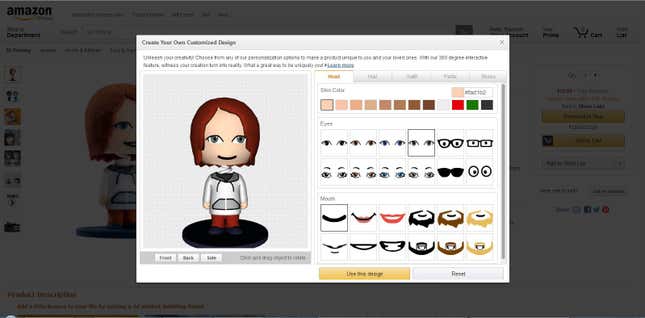 If you've always wanted a bobble head of yourself, it's now really easy to get one. Amazon entered a new market today with the launch of a 3D-printing shop that lets buyers personalize items ranging from bobble heads to swords.
There isn't a way yet to upload an original design onto Amazon and have it printed, but here are some of other the things you can personalize from the Amazon shop:
Cufflinks, $60
"Look dapper and tech savvy" with these steel cufflinks, the store suggests. You can place up to three characters on the links, and personalize the shape, face style, and color.
Sandstone personalized figurine, $29.99
Customize your skin tone, facial features, and clothing styles on a statuette, which is a little smaller than a playing card. You can even accessorize with a shirt featuring a cat.
Wax Seal, $42
New technology meets vintage style for those looking to add some flourish to their correspondence. You can use add up to two letters and choose the finish.
Quark earrings, $25
"Create jewelry inspired by the intricate movements of sub-atomic particles," the store proposes. In addition to the color, you can personalize the shape of the nylon plastic jewelry.
Binary necklace, $15
The way to a computer-savvy love interest's heart is clearly in spelling out a secret message of up to eight characters using ones and zeros.
This isn't the first time it has been possible to order something customized from a 3D-printer—there have been pop-up stores and UC Berkeley students even made a 3D-printer vending machine. For now, most of the products in the Amazon store seem more about the novelty of owning something 3D-printed than anything else—an $80 cardholder, for example, or a decorative printed dog head sculpture for $34.73.
But by devoting an area of the site to 3D-printing, Amazon is connecting vendors to customers—providing a platform that has the potential to grow the fad into a viable sector of e-commerce.