Disappointing second-quarter earnings have dealt the resounding blow to Herbalife's stock price that hedge-fund billionaire Bill Ackman's laborious attempted "deathblow" last week tried but failed to deliver. Shares of Herbalife were down in after-hours trading by more than 11% after the nutritional-supplement company made less profit than analysts were predicting for the first time in 21 quarters. The company's revenue of $1.3 billion also failed to beat analyst expectations.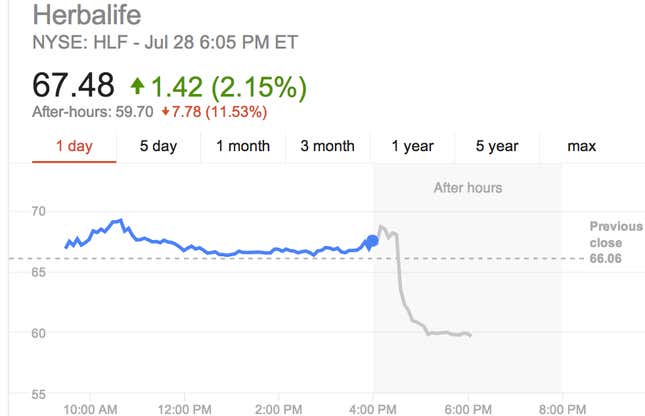 It's much-needed good news for Ackman, who made a very public $1 billion bet some 18 months ago that Herbalife would collapse after he declared it a pyramid scheme. A showy, three-and-half-hour presentation of his case in Manhattan last week was meant to push Herbalife's shares off a cliff but had quite the opposite result: The stock enjoyed a 25% bump (paywall).
Herbalife's stock slide today wasn't the only good news for Ackman, reports ValueWalk. An HSBC report cited his firm, Pershing Square Capital Management, as the best performing fund so far this year.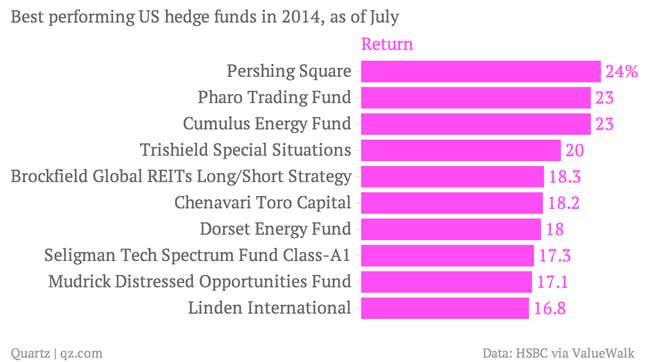 All this, and Ackman didn't have to utter a single word.