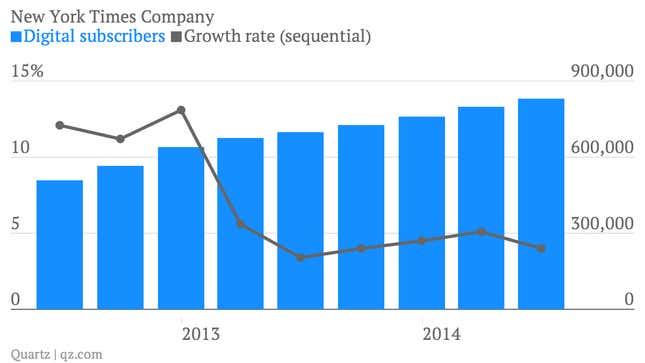 New York Times Company shares have opened sharply lower this morning (they were down as much as 9%) after the company released its quarterly results. There is not much to get excited about in those numbers, which were weaker than consensus estimates among analysts, according to Bloomberg. 
Efforts by the "grey lady" to bolster its digital subscriber base through cheaper subscription packages and new mobile apps don't appear to have had the desired effect, at least not yet. The company this morning reported that its digital-only subscribers totaled 831,000 at the end of the second quarter, an increase of 4% from March and up 19% from a year earlier.
As the above chart shows, growth in digital-only subscribers is slowing, despite new packages like the $8-a-month, mobile-focused "NYT Now" and the $6-a-month, op-ed-heavy "NYT Opinion" packages. "While we expected the portfolio to take time to build, we want to accelerate the rate of growth in subscription sales, so over the coming months, we will refine some of the offers and the way we market the portfolio to accomplish this," the company said in its earnings release. 
One bright spot from the result: digital-advertising revenue was up for the second straight quarter, rising by 3.4% to hit $41.5 million. That is still only about 10% of the company's total business. Print advertising, which remains a huge revenue stream, fell 6.6% from a year earlier, and the company doesn't expect the bleeding to stop soon. (It's forecasting total advertising revenue to decline in the "mid-single digits" during the current quarter.)
The media company last quarter unceremoniously ousted its former top editor, Jill Abramson, reportedly due in part to disputes over remuneration. The company said severance costs were $2.2 million during the quarter, but that was actually down from $3.1 million in the preceding quarter and $2.8 million a year ago.