Last week, Toronto mayoral candidate David Soknacki made a bold suggestion to improve the morning transit commute: offer free rides to anyone traveling before rush-hour. The idea is that by encouraging more early bird riders (in this case, those traveling between 6 and 7am), city subways and buses will be less crowded at the peak of the morning peak. Here's Soknacki, via the Toronto Star:
"Even if only a portion of those commuters do switch, it frees up capacity in rush hour when people can't or won't change their travel time."
An offer of free transit during a political campaign might seem too good to be true—the real-world equivalent of every middle-school student council candidate who's ever promised to get a soda machine for the cafeteria. But Soknacki's proposal, in keeping with his general approach to transit policy, is both reasonable and realistic. In fact, Singapore's transport authority has been running a similar pre-peak program for more than a year.
Singapore's program started in June 2013 for commuters using the MRT, the city's crowded subway system. Riders paid no fare if they exited at one of 16 heavily used MRT stations in the city core by 7:45am on weekdays. (Riders who exited at one of these stations between 7:45 and 8am got a slight discount—a little grace period before the true peak.) To facilitate the shift, MRT ran more off-peak trains and officials worked with large employers to promote flexible work schedules.
What Singapore wanted was what every subway commuter wants: just a little space to breathe on the rush-hour train, thank you. As of March 2013, when the MRT program was announced, about 36,000 people exited at one of the 16 core stations between 7 and 8 in the morning on weekdays, compared to 99,500 who got off at the same places between 8 and 9—a peak-off peak ratio of nearly 2.8 to 1. Ridership was nearly as high in the 15 minutes before 9am as it was in the whole hour before 8.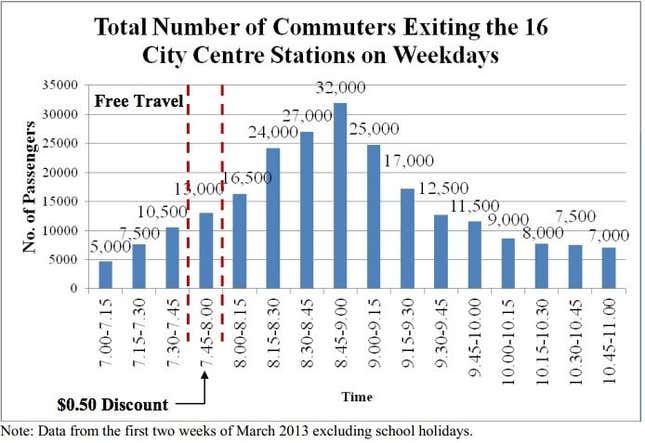 The program seems to have worked just as planned. About 7% of riders shifted out of the peak commute, according to officials, with the peak/off peak ratio falling closer to 2 to 1. Even more might have taken advantage of the free fares if they could have: about two-thirds of non-participants said they didn't have flexible work schedules that permitted early arrivals. The city recently extended the program, which was supposed to end in June 2014, for another year.
Better passenger distribution—aka a comfier rush-hour ride—is but one of many reasons to set off-peak fares below peak rates. Just as a free early morning train might attract rush-hour riders, it might also attract rush-hour drivers, making roads less crowded, too. Off-peak service typically costs less for agencies to provide, and there's a positive feedback loop here, with more service leading to more fare revenue. And trains outside the peak lay the foundation for all-day transit systems with the power to reshape city mobility at large.
The big challenge with free fare programs, early bird or every day, comes down to funding. In Singapore, cost isn't much of a problem, as the MRT has one of the world's best farebox recovery rates; in Toronto, Soknacki has yet to offer cost estimates for a pre-peak program. But in terms of gaining popular support, subsidizing off-peak rates—as opposed to raising peak rates an equal amount, which would also shift ridership away from rush hour—is a wiser political move.
Probably not wise enough to save Soknacki, though. A Star poll from early July had the fringe candidate getting only 1% of the vote. If they held the poll on the subway during rush-hour, however, things might look different.
This post originally appeared at CityLab. More from our sister site: 
If an electric bike is ever going to hit it big in the US, it's this one
The new geography of US consumer debt
Visit Paris, which is now infested by rats tourists seem to love