The Ebola virus outbreak of 2014 is unlike any past pandemic. With more than 670 West Africans dead, it has already killed 50% more people than the first—and, until now, deadliest—outbreak in 1976. That may be because this year's involves the most lethal strain of the five known Ebola viruses. But its mysterious arrival in bustling West Africa also marks Ebola's urban debut; past outbreaks have been confined to the remote jungles of central Africa.
And with the recent spread to Lagos, Nigeria's densely populated commercial capital, this is also the first time the Ebola virus has been spread via a commercial airplane passenger (at least in recent history). Witnesses say Patrick Sawyer, a Liberian government consultant who succumbed to Ebola after arriving in Lagos, began vomiting and having diarrhea mid-flight (though accounts vary). Anyone on that flight who came in contact with those fluids and touched their own mucus membranes may have contracted the virus—a prospect made more worrisome by the fact that Nigeria's health authorities don't seem to know where all of Sawyer's fellow passengers are right now.
If that could happen, where else could Ebola go? In theory, to quite a few global hub airports. Flights out of major airports in the affected countries arrive in 39 airports in 35 other countries. There are seven in Europe, in the UK, Belgium, Germany, France, Spain and the Netherlands; four in the Middle East; and three in the US (Houston, Atlanta and New York).
That doesn't mean it's time to panic about the possibility of this virus spreading across the world via commercial flights. The combination of the virus's swift onset and its brutality—among other things, it causes its victims to bleed from mucus membranes, and sometimes the nose, gums and eyes—means the infected usually struggle to make it to the hospital, let alone through a baggage-check.
"[P]eople generally transmit the infection when they are very sick, have a high fever and a lot of symptoms—and in these situations, they don't travel," Kamiliny Kalahne of Médecins Sans Frontières, a non-governmental medical organization, told CNN.
So far, the World Health Organization hasn't endorsed any travel restrictions. "We would have to consider any travel recommendations very carefully, but the best way to stop this outbreak is to put the necessary measures in place at the source of infection," Gregory Hartl, a WHO spokesperson, told CBC. Closing borders "might help, but it won't be exhaustive or foolproof," he said.
West African airports are now stepping up their Ebola vigilance—albeit perhaps a little late. At the time Sawyer departed from Monrovia—on Jul. 20—Liberian health authorities were not screening outbound passengers for signs of Ebola. Now they are, as Liberian president Ellen Johnson Sirleaf announced earlier today. Nigeria, Guinea, and Togo—where Sawyer's ill-fated flight to Lagos stopped over—also say they are screening outbound passengers for signs of the virus. Meanwhile, Asky Airlines—that's the airline on which Patrick Sawyer flew—has temporarily halted flights to Monrovia and Freetown.
Health authorities in Hong Kong and Birmingham, UK, quarantined air passengers flying from Kenya and Nigeria, respectively (though the virus hasn't shown up anywhere near Kenya, where the Hong Kong passenger returned from, she was reportedly exhibiting symptoms). It turned out neither passenger had the virus.
Still, scary public health possibilities remain. Aside from coming into contact with open cuts, Ebola likely enters a person's body through mucus membranes, such as the surface of the eye or by clinging to cells in their throat. Because the virus is bloodborne—it grows only in an animal's bloodstream—it's not as easily transmitted as something like, say, the flu. Still, it can survive in liquid or dried materials for a number of days outside a human host. It also is an STD of sorts, having been found in semen 61 days after its onset, with transmission occurring seven weeks after the patient recovered. Otherwise, the incubation period—meaning, between exposure and when a person begins to show symptoms—is between two and 21 days.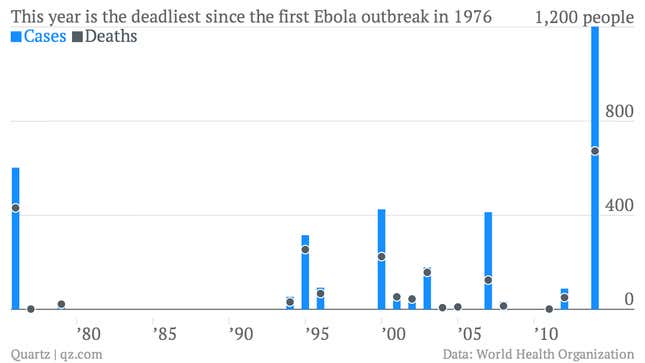 That's a big reason why it's unnerving that Nigeria's health authorities allowed Sawyer's fellow passengers to leave the airport after briefing them on Ebola symptoms: The 100 or so passengers on Sawyer's flight might not fall ill for another couple of weeks. The airline has yet to provide the Lagos state health ministry with a passenger list for the flights the victim was on, Reuters reports, though the authorities also say they've tested 20 out of 59 people who came into contact with Sawyer, reports CBC.
Even more unnerving is that, despite the fact that Ebola had been raging in other West African countries for at least five months, Sawyer's sickness apparently took the Nigerian health system completely by surprise. After he collapsed in the Lagos airport and was taken to a private hospital, Sawyer was initially treated for malaria, for which he tested positive, reports Buzzfeed. But it was only when he began hemorrhaging blood that doctors thought to check for Ebola as well, after which they isolated him. The hospital is now closed for disinfection, say health authorities.
While the World Health Organization is stepping up its efforts to contain any potential spread in Nigeria, things continue to worsen elsewhere in West Africa. A surge in new cases in Guinea, the heart of the hot zone, suggests that it's being transmitted in ways that health authorities don't yet understand, says the WHO. Monrovia has run out of hospital space to care for Ebola patients, making it impossible to isolate them. And the virus has now claimed the lives of two of the region's top Ebola doctors, Sierra Leone's Dr. Sheik Umar Khan and Liberia's Dr. Samuel Brisbane.