The instant messaging app Snapchat may soon be a part of an exclusive Silicon Valley club: startups commanding valuations of $5 billion or better.
The tech company most noted for an app that makes message files disappear within seconds after being viewed could soon fetch financing from the China e-commerce giant Alibaba that values the company at about $10 billion, Bloomberg reports. That's a heady number for a company that was started just three years ago.
Here's a look at some of the $5 billion+ club members—with the car service company Uber leading the pack at $17 billion, according to PrivCo, which gathers data on privately held companies. Snapchat's peers at the $10-billion level include Dropbox, Airbnb and Uber.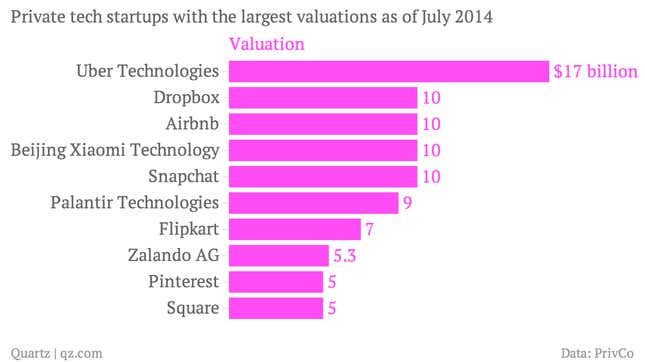 Only a few breathe the rarified air at the top of that heap, but still, Matthew Turlip, an analyst at PrivCo, pointed out, more companies are fetching multi-billion dollar valuations than ever before.
So what's with the big numbers? To be sure, critics argue that some of these valuations, including Uber's fat numbers, are grossly inflated. But there are a couple of factors juicing values. For one thing, startup investors such as mutual funds are increasingly willing to bypass IPOs in order to get bigger stakes in potentially successful tech firms. Turlip also noted that tech valuations, particularly in mobile apps, have been elevated since Facebook stunned the market with its $19-billion acquisition of the messaging company WhatsApp earlier in the year, raising the possibility that more mature tech companies or larger rivals could be prowling for a merger or acquisition.
It's important to note that the reported source of this Snapchat funding, Alibaba, is in the process of orchestrating its blockbuster initial public offering in the US sometime after Labor Day. It's rare for a company to strike a major deal with its IPO in the offing (though Facebook bought Instagram just ahead of its IPO). Most companies are wary of making any significant moves that might irk potential investors. The Snapchat deal suggests that Alibaba has plenty to gain by establishing a presence in the US market.