This item has been updated. 
In recent years, retailers have increasingly embraced big data, instead of simply relying on the intuitive sense of fashion designers and buyers. Stores that have leftover inventory or are out-of-stock on bestselling items, now look to real-time data and analytics to ensure that supply and demand are aligned.
"Fashion forecasting isn't accurate anymore," says Geoff Watts, co-founder of retail data and analytics provider Editd. Watts, a programmer with experience in financial modeling, describes the product he co-created in 2009 as a "Bloomberg terminal for fashion."
Users, including brands like Gap, Target, Gilt Groupe and several UK High Street brands, pay upwards of $2,500 a month to access a suite of dashboards that show what products are currently on the market, how much they're selling for, how quickly the items are selling out, etc.
"We crawl the web in the way that Google crawls the web," says Watts. In addition to looking at retail websites, Editd's software also monitors social media and fashion blogs to determine what's trending. It can take into account local and regional dialects—that "jersey" has a different meaning in South Africa—and the data are refreshed every 24 hours.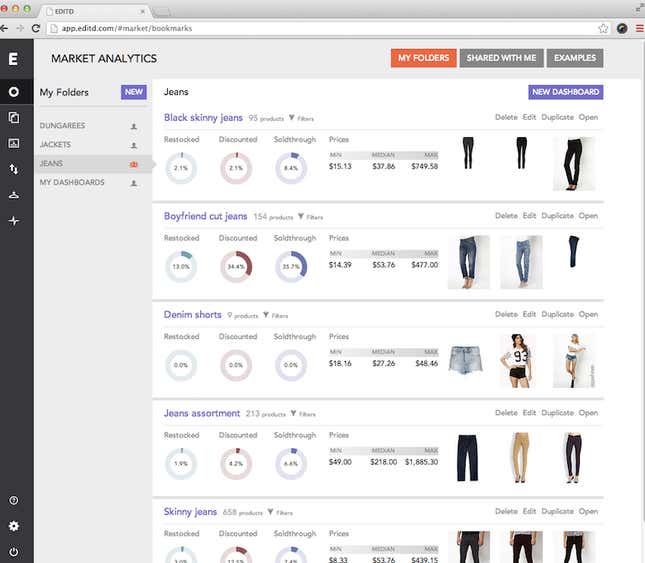 Retailers have always had business intelligence tools but most, from streetwear to luxury, don't provide real-time information on the entire industry.
Many apparel companies use trend forecasting site WGSN, which just acquired another popular tool, StyleSight. Watts said WGSN was in talks to acquire Editd in 2012 that didn't result in a deal. Watts says that both WGSN and StyleSight take a more qualitative, editorial-driven approach, versus a quantitative, data-driven view.
"[Editd] is more about managing markdowns and understanding if the entire industry overbought on something and it's a bomb," Sucharita Mulpuru-Kodali, a retail analyst with Forrester Research told Quartz. "And this product doesn't do as much to help you with your forward-looking buys."
The London-based company currently has clients in Russia, South America, Indonesia and is using its most recent fundraising round of $4.4 million to focus on expansion and building out its presence in New York.
While big data has already had a dramatic impact on the bottom line for vertically-integrated retailers like J.Crew, there are still several fashion executives who aren't entirely sold on cutting out the art.
"The danger is when data becomes prescriptive," Emma Farrow, head of design for Topshop, told the NYT. "Because that fails to acknowledge what influences trends."
For an industry that generates $1 trillion annually, intuition still has its place.
Update: The piece has been updated to provide clearer attribution and description of the talks between WGSN and Editd.