The World Cup was good for brewers. Anheuser-Busch InBev reported strong results today and cited thirsty soccer fans as a major factor.
It goes without saying that revellers in countries whose teams went deep into the tournament downed more beer than others. Germans are already among the world's biggest beer drinkers, so as their all-conquering soccer team marched towards the championship the brews flowed freely.
Beer sales in June jumped by 14%, to 9.7 million hectoliters (213 million gallons), according to data released today by Germany's statistics agency (link in German). Roughly speaking, that's around 20 pints per person over the course of the month. The June jump pushed sales in the second quarter up by more than 5% versus the previous year, the strongest growth in some time, including during the previous World Cup, when Germany made it to the semi-finals: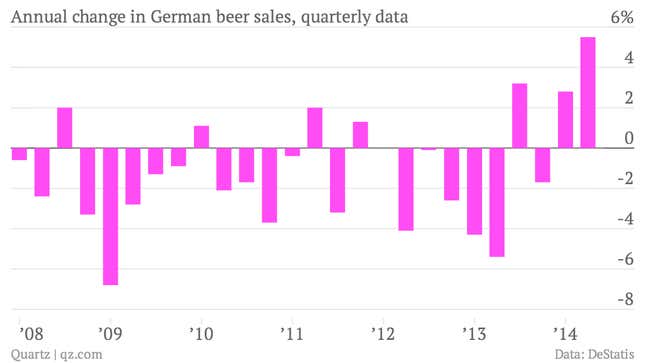 The business end of the tournament was in July, when the German team really kicked into high gear, so beer sales in that month may be even stronger than June's frothy numbers when they are released next month.
That will certainly be the case if German soccer fans back home celebrated the country's win as enthusiastically as the players in Brazil. The German team was based at a Sheraton hotel in Rio de Janeiro, owned by Starwood Hotels & Resorts. "From what I heard the victory party at the Sheraton Rio was one for the record books," said Starwood's boss, Frits van Paasschen, on a conference call last week to announce a better-than-expected rise in quarterly profit.