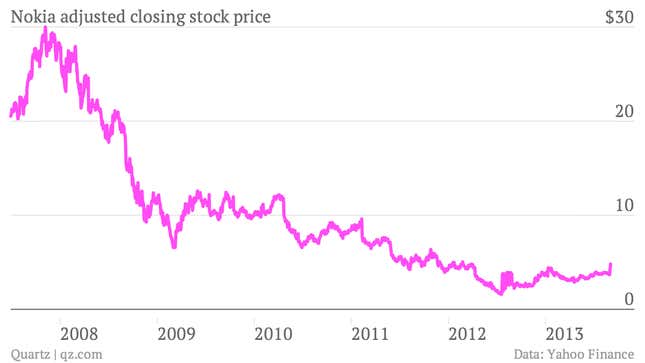 Samsung—which rode the Android wave to prominence more than any other handset maker—is now experiencing a squeeze. That is, pressure on the high end (from Apple) and on the low end (currently from China) that already has claimed or threatened the lives of many of its competitors, from Palm and Motorola to BlackBerry and Nokia.
Today in Seoul, Samsung "reported its worst quarterly profit in two years and flagged uncertain earnings prospects for its key handset business," Reuters' Se Young Lee reports. Of course, Samsung thinks its new products will fix the situation.
But we've seen this story before. This particular chart shows Nokia's adjusted closing price from the day Apple released the first iPhone, in 2007, to the day in 2013 when Microsoft announced it would acquire Nokia's struggling handset business.
The smartphone industry is a ruthless one, and Samsung has been one of the few victors in recent years. Mostly that is because it became the world's dominant Android handset maker. It also served many roles that Apple wouldn't, such as pioneering super-large-screen phones, mid- to low-cost models, and massive worldwide distribution.
But Samsung's market share is falling: It represented 25% of the global smartphone market last quarter, IDC estimates, down from 32% the year before. Meanwhile, Chinese vendors across the price and quality spectrum—from Huawei and Xiaomi to no-name companies—are coming on strong and pushing market growth. For Samsung, there's no easy fix.