It's getting harder for Tesla and Elon Musk to impress investors.
The electric car maker just notched a quarterly loss of $61 million, on revenue of $769.4 million. Or, using the company's preferred accounting standards, Tesla achieved a profit of $16 million, on revenue of $858 million, both significantly stronger than analysts had expected. The company also said it delivered 7,579 Model S vehicles during the quarter and is on track to exceed 35,000 deliveries for the year.
Yet, the stock slipped in after-hours trading (an underwhelming reaction compared to the big bounces shares saw after recent quarterly results).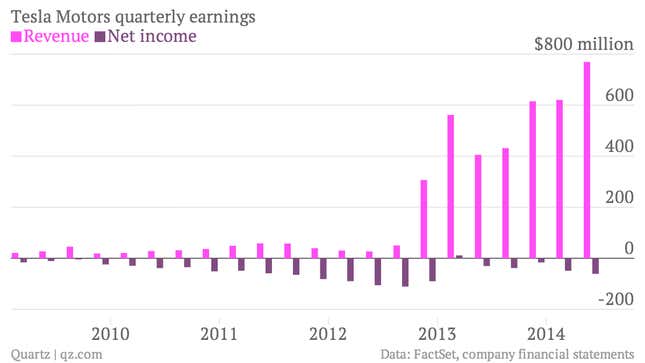 Overnight, the company struck an important partnership deal  with Panasonic that will help Tesla build its highly anticipated lithium-ion battery factory.
Tesla is currently considering multiple sites for the so-called gigafactory, which will enable the company to produce and sell more cars (including a cheaper model that could have more mainstream appeal). We won't know where the $5 billion factory will actually be located for at least a few more months.
As it stands Nevada, Arizona, California, New Mexico and Texas are all competing to land the plant. Just recently, Texas Gov. Rick Perry has been seen riding around the Lone Star State in a Tesla Model S. He has even visited the California state capital, in an attempt to woo Musk, whose current headquarters is in the San Francisco Bay area.