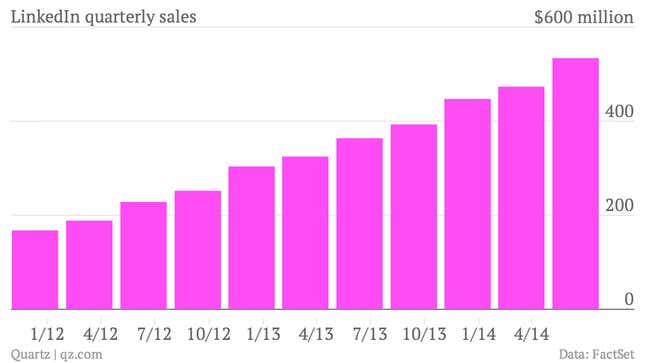 The numbers: Revenue jumped 47% to $534 million from $364 million in the second quarter last year. The net loss was $1 million, down from a $3.7 million profit in the same period a year earlier after a busy quarter in which the company acquired two companies. LinkedIn's shares are up more than 8% in after hours trading.
The takeaway: The company continues to work on improving its talent solutions service, a tool for recruiters that, for a hefty fee, sorts and filters the site to find job candidates. The tool is LinkedIn's cash cow, accounting for 60% of its revenue. No wonder then that it's rolling out a similar product for salespeople. "Just as the launch of our flagship Recruiter product transformed the way talent professionals recruit, we expect Sales Navigator will similarly transform the effectiveness of sales professionals," CEO Jeff Weiner said on the company's earning call.
What's interesting: The company is excited about China, where Linkedin recently launched a version of its site. On the company's earnings call, CEO Jeff Weiner said that China was the fastest growing major market in terms of new members.