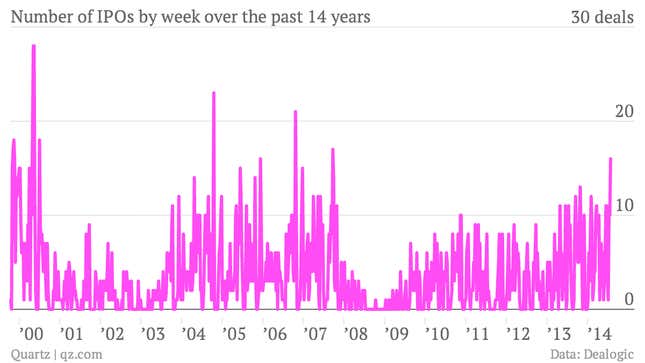 It's been a busy period for IPOs. While stock investors have turned panicky, enough initial public offerings came to market in the days beforehand to make the week of July 28 the biggest week for debut issues since 2007.
Highlighting the IPO surge are offerings like that of Israel-based technology startup Mobileye, whose shares are soaring more than 50% in its stock debut today after garnering healthy early interest from potential investors last night. Another IPO, Synchrony Financial, a spinoff of General Electric, raised about $3 billion yesterday–although it fetched a less-than-stellar market reaction and closed flat at $23 a share.
To be sure, IPO listing volume could have been a lot better for the week, as at least nine deals got withdrawn. The postponers included biotechnology companies like Atara Biotherapeutics, which had planned a roughly $100 million offering, and Switzerland-based Auris Medical Holding, which was hoping to raise $80 million.
Still, 16 companies went public this week, according to Dealogic. To put things in perspective, that's the strongest volume since 17 IPOs floated in one week in 2007, just before the financial crisis sapped the verve out of global markets. The high watermark for IPOs in a one-week frame is 28 deals, which happened twice, in back-to-back weeks during the latter half of 2000.
On an annual basis, 2014  marks the highest number of IPOs at 190, as of yesterday, making it already the best year for new stock offerings since the go-go dot-com days of 2000: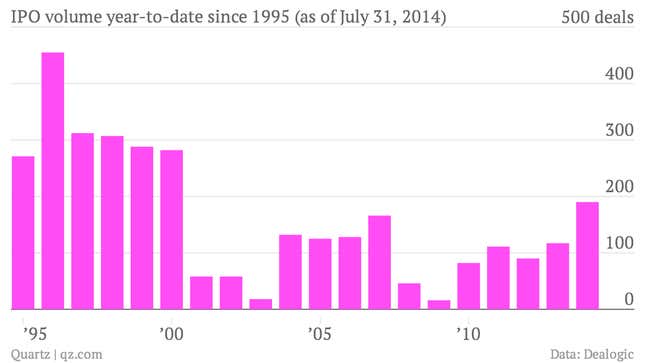 It's also the most money raised via IPOs at roughly $44 billion so far this yea since the $76 billion raised at the same period in July in 2000: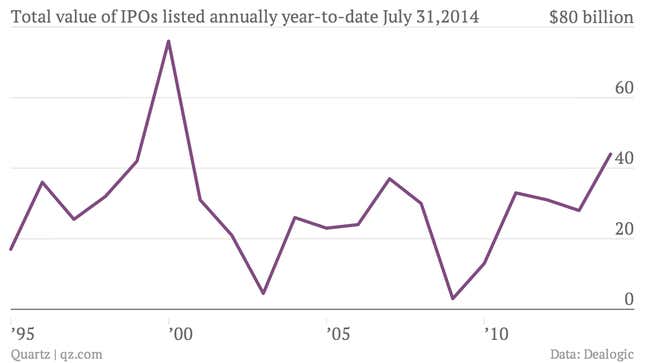 The resurgence has turned the IPO market into a new profit engine for a banking industry otherwise hamstrung by a slump in trading. An important question is whether strong IPO activity can persist amid in a market that is just starting to do some handwringing over concerns about global economic health. Although the door is not yet shut on companies seeking to go public, giant IPOs in the wings like Alibaba Group's blockbuster offering (paywall) are depending on the markets  to regain their cool.