Every major city in the world has a network of public phone booths on most streets—absolutely crucial to the running of the city only a couple of decades ago but now just taking up space in the age of smartphones. In Britain, home of the iconic red telephone booths that have been around since 1926, many booths have fallen into disrepair.
British Telecom now allows the public to adopt a booth for as little as a £1. Since 2009, more than 1,500 phone boxes have been turned into florists, wildlife information centers and tiny art galleries. One, in the tiny village of Kington Magna, was turned into what may be the country's smallest library. BT supports putting defibrillators in adopted kiosks for isolated communities for whom medical care may be too far away. (Ironically, you can't call emergency services from the booths.)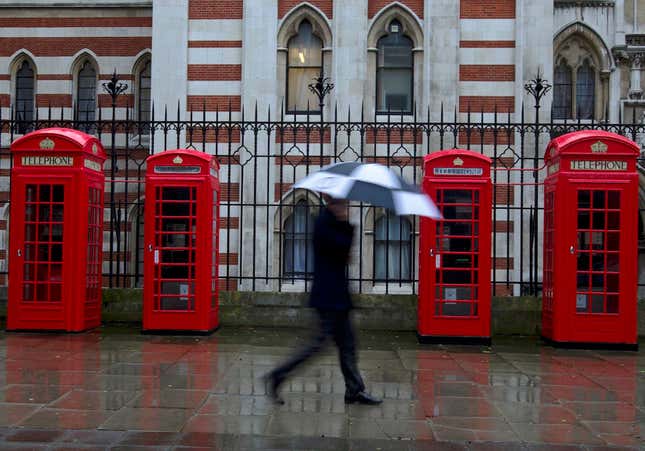 Everyone is considering the issue. In South Africa, the country is looking at turning all 79,000 of its phone booths into Wi-Fi hotspots, and China has been converting its booths since 2011. So what will replace the the humble phone booth?
In New York, the current contracts for the city's 9,000 remaining public payphones, which started in 1999, finally run out on Oct. 15. The city will soon reveal who has bid for the next generation of public payphones and what their proposals are.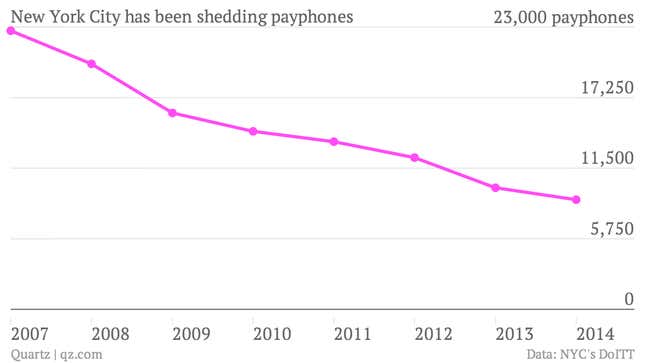 Google is rumored to be among the bidders to turn the phone booths into something more than Wi-Fi hotspots, and IBM, Samsung, and Cisco all attended the initial informational sessions. The city is inspired by the High Line, the derelict freight-railroad line in New York's Meatpacking District that is now a beautiful public park. "Personally, the High Line is one of my favorite things in the world," Nicholas Sbordone, a spokesman for New York's Department of Information Technology and Telecommunications, told Fast Company. "It was able to be reinvented and reused and now everyone loves it. I'd love for something similar to happen with payphones in this city."
The DoITT already ran a test program in 2012 to provide free Wi-Fi from some payphone booths—which was very popular. Free Wi-Fi and free calls to 911 and 311—the emergency and information numbers, respectively—will definitely be part of the next wave of public-phone booths. But the request for information from the DoITT asks the companies to answer several questions on the future of public-phone booths, including whether payphones should even remain part of the service.
This is not an idle question. More than 27 million phone calls were placed from New York payphones in 2011 and there's a "significant usage of sidewalk payphones to place 911 calls," the city says. Emergencies are always the test of a technology, and payphones went through a mini-revival in the aftermath of Hurricane Sandy. "Phones that normally do two dollars a day are taking in $50 a day," a spokesman for one of 13 payphone franchises told the Wall Street Journal. "In times of distress, the people of the city love them."
There is also the question of advertising. The city made $17.4 million in franchise commissions for payphone advertising in 2013. Can that be replaced—or augmented? We will find out the answers that Google and others may have to these questions when their proposals are revealed.