It spawned one of the biggest media empires the world has ever seen, and throughout its nine decades of existence, has been involved in some of the financial world's most important transactions. Now, having just been spun off from its most recent parent, could Time magazine, in the not-too-distant future, again be at the center of corporate activity?
Time is now part of Time Inc, the publishing business which was in June spun out of Time Warner (the media giant behind HBO, CNN and TNT), which is not to be confused with Time Warner Cable, the broadband and cable operator being acquired by Comcast. Time Inc., which also houses magazines like Fortune, Sports Illustrated, People and InStyle, delivers its maiden quarterly earnings report tomorrow, and already there is speculation  that it could soon be a takeover target.
This helps explain why, despite pressures on the magazine industry, Time Inc's share price has been performing quite strongly since listing.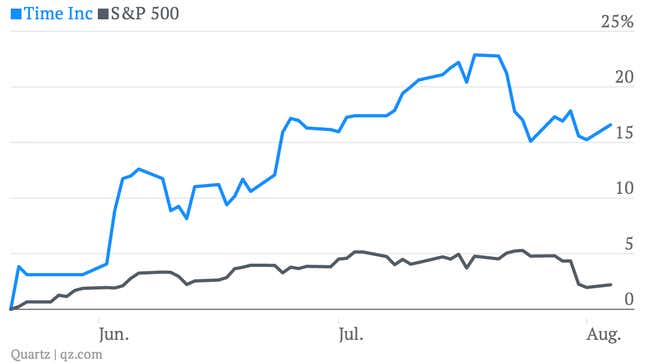 In 2013, there were widespread rumors in the financial press that Meredith Corporation, which publishes a number of magazines targeted at women, was looking at acquiring Time Warner's publishing assets. Ultimately that deal failed to transpire, but since the  Time Inc. spinoff was completed, the Meredith talk has resurfaced.
Citigroup media analyst Jason Bazinet, for one, has been pushing the idea for months, and as the recent 21st Century Fox bid for Time Warner shows, when media analysts blow smoke there is often fire.
Bazinet's rationale is simple:  The magazine business is shrinking, and rapidly. With advertising and circulation revenues on the decline, the best way for a company like Meredith to grow is through scale. In buying Time, it would more than double its circulation footprint in the US to 61 million readers. It could also rip out $175 million in costs, he estimates. "[W]e're fairly confident that the secular pressures on the magazine
industry will prompt consolidation. And, we believe Meredith is the most likely buyer [of Time]" he wrote last month.
Any deal isn't likely to take place until late in 2015. Any earlier and shareholders, who enjoyed a tax-free deal on the Time Inc. spinoff, might have to pay taxes after all. When the Wall Street Journal (paywall) reported in 2013 that Meredith was looking at buying Time Inc., it was thought to be focusing on the more profitable lifestyle titles, and Time Warner was expected to hold onto newsier but less profitable titles like Time, Fortune and Sports Illustrated.
It's not clear whether Meredith would want to keep the Time Inc. stable whole this time. But if it decides to break it up, then Time—which, as the chart below from Morgan Stanley shows, has been involved in a lot of corporate transactions during its existence—could yet be in for a couple more.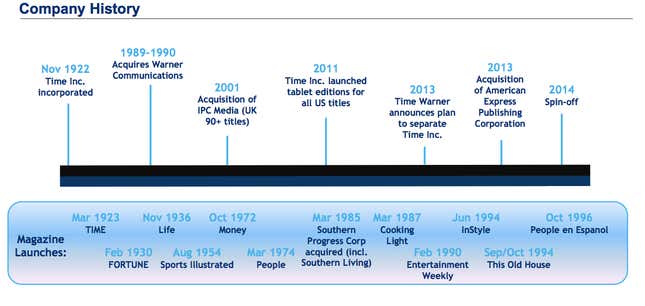 The recent sale of  a majority stake in Forbes Magazine reportedly valued that title at $475 million. That at least suggests that if  (and it's a big if) Meredith does buy Time Inc. and then sells off its namesake title, it might not be impossible to find a buyer.