The backpack as we know it today—never mind the caveman's animal skin version—may have started with an avid outdoorsman who had a knack for sewing. Gerry Cunningham claimed to have created the world's first zippered backpack in the 1930s. It was designed for day trips, with compartments to carry equipment and lunch. His company, Gerry, went on to redesign tents, carabineers, kid-carrying contraptions, and, it claims, the world's first nylon backpack.
It took a long time for the daypack version of the mountaineering rucksack to make its way to college campuses. According to Slate, the phenomenon began when university bookstores, beginning with the University of Washington, started carrying JanSport bags in the early 1970s.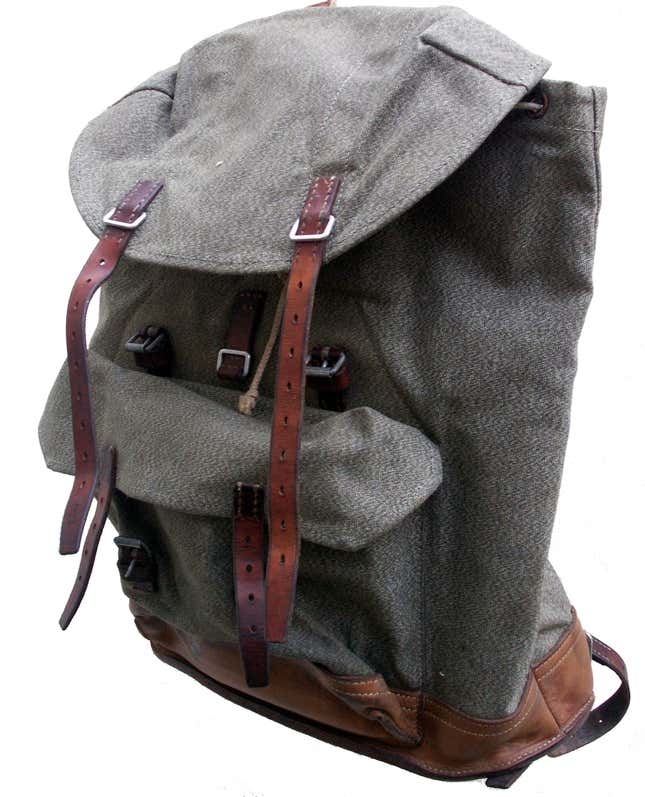 After receiving feedback from the store manager, the company began modifying the packs to make them more student-friendly by adding "jam-proof nylon coil zippers and used vinyl (and later leather) to reinforce the improved packs."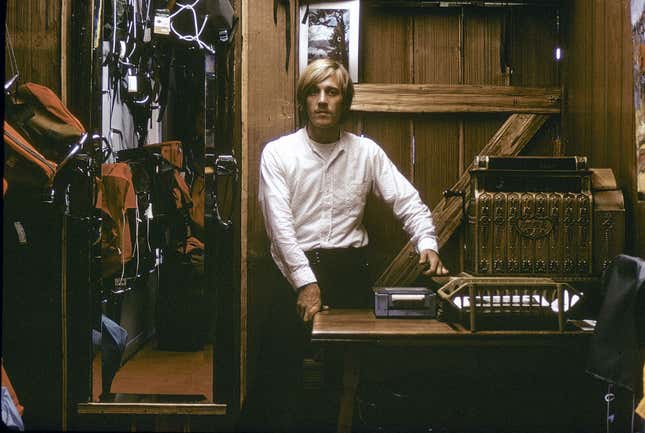 In 1982, L.L. Bean began designing book packs that would accommodate heavy books, and by the end of the decade it had "added a second big pouch, a waist belt, and a safety-conscious diagonal reflective strip." Book bags were now ubiquitous in schoolyards and today their sales total more then $1 billion each year.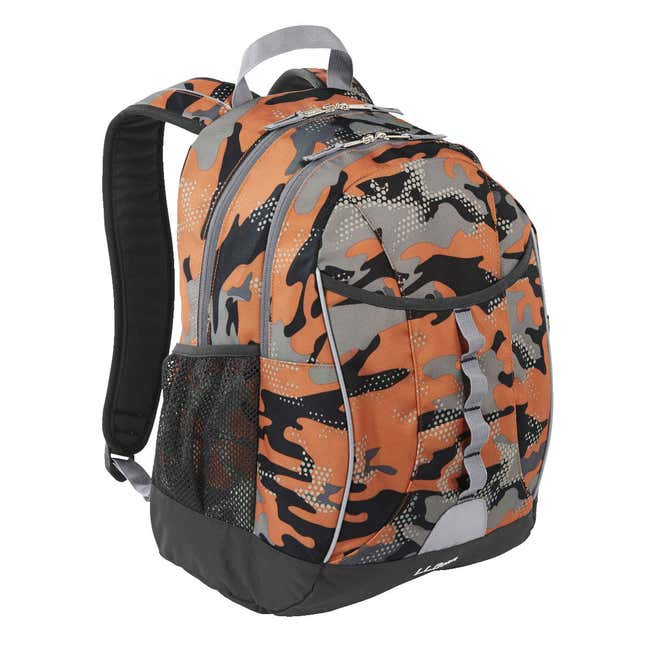 Somewhere along the line, backpacks went from functional to fashionable—a way, especially for high school kids, to communicate one's personality and values. "They all want to be the same, but they all want to be different," said Christina Thomas, founder of the customizable backpack company AttachaPack. "They all have backpacks, but they personalize it and make it their own."
Backpacks started to come with camouflage prints, Disney princess emblems, mesh pockets, mini bungee cords—the conflation of educational and outdoorsy, mixed with corporate marketing. There are backpacks made from plastic bags; ones designed for graffiti artists that can hold up to 22 cans of spray paint; and gadget-friendly backpacks with sleeves that turn into charging stations.
Glamour describes backpacks as "what you should put on your fall shopping list." Designer backpacks became perfectly acceptable alongside Birkin bags and Balenciaga; a Chanel backpack sold for more than $10,000 on eBay:
They are more like cars these days: luxury versions, cheap knockoffs, solid in-betweens. This year, the backpack company Herschel, founded by two brothers in 2009, is getting attention for bridging the tech and fashion worlds with a hipster twist.
Redesigning backpacks in general is something of a preoccupation, not just among outdoor companies—though of course they're always working on it—but for young entrepreneurs, too. On Kickstarter, there are campaigns for sustainable eco-backpacks; a faux fur-lined backpack with a futuristic, geometrically patterned exterior called the Jet Pack; and one that's a smart take on a military pack called the Modular Urban Backpack.
AttachaPack doesn't do much to reinvent the form of the backpack itself, but besides its interchangeable packs of different colors and patterns it offers a bulletproof insert ($99-$119). It seeks to reunite the backpack with its origins in a way that others haven't: it's a survivalist tool. "It came all the way back from Columbine," says Thomas, who worked for years as a school police officer. "When they were running out of that school they had their backpacks on."
AttachaPack isn't the only such bag. Sales of bulletproof backpacks have increased since the school shooting in Newtown, Connecticut. In 2012, sales of bulletproof backpacks by Bullet Blocker and Amendment II (which sells boys' Avenger and girls' Disney princess backpacks) rose by more than 500%.