Hispanics buy a quarter of the movie tickets sold in the US and Canada, but are cast in less than 5% of speaking roles in American films. The representation on screen hasn't changed much since 2007, fluctuating between 2.8% and 4.9%, even as Hispanic movie audiences have been growing.


Such data has, predictably, led to calls for increased Hispanic representation in film. But if audiences already are flocking to theaters without the added effort from filmmakers to diversify their casts, why should the movie business bother to do better on this?
It's good for society
When minorities are absent from narratives, or their only appearance is a stereotyped one, inequality becomes normalized (pdf, p.5). In addition to their scarcity of speaking roles in US films last year, Hispanics were more likely than other characters to be sexualized onscreen. According to a report out of USC's Annenberg School for Communication & Journalism, 37.5% of Hispanic women and 16.5% of Hispanic men were shown partially or completely nude on-screen last year, while white, black and Asian actors, male or female, bared their skin with less frequency. White men were the least likely at 9.9% while white women came in second behind Hispanic women at 31.9% (Among men, the only group more likely to be shown with exposed skin—18.2%—were the ones the researchers classified as "other," a broad demographic that includes "American Indian/Alaska Native, Native Hawaiian/Pacific Islander, Middle Eastern, and characters with racial/ethnic identities" not listed).
Hispanics accounted for more than half of US population growth from 2000 to 2010, and now make up 17% of the country. If there are few Hispanics in films to begin with, and then women are depicted as "spicy Latinas" while the men are stuck in roles as attractive pool boys, filmmakers perhaps are conditioning people to equate those traits with Hispanics they see outside the theater, and to associate complexity and depth with whiteness. "Exclusion on the big screen sends a sub rosa message that exclusion in real life is ok… in terms of employment, in terms of housing, in terms of representational goals in the workforce," Felix Sanchez, co-founder of the National Hispanic Foundation for the Arts, tells Quartz.
There's buying power here
Business decisions frequently are driven by something other than a sense of civic responsibility. In that case, film studios might want to consider the financial benefits of targeting a growing population that's approaching $1 trillion in buying power.
Despite their low representation on-screen, Hispanics are second only to white Americans when it comes to buying tickets to the movies. And while the share of white US moviegoers has been leveling off, the share of Hispanic viewers is going up. Even though the turnout already is strong, it would seem to make sense to invest in the audience that is growing.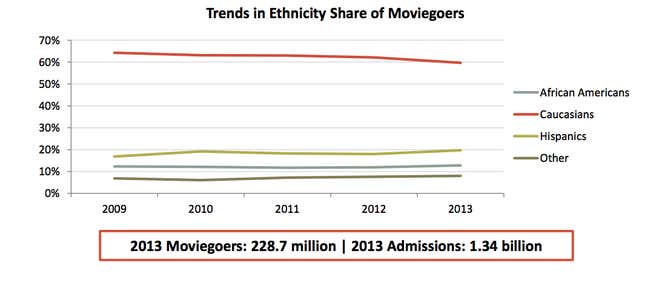 Attention should be paid by filmmakers across genres, since the Hispanic population's tastes are not narrowly defined. As The Wrap reported last month, this is a demographic that has helped turn a broad array of films into monster hits.

If studios need to satisfy their bottom line to justify more screen time for Hispanics—or other minorities with low representation on-screen proportionate to their share of the population—well,  there's evidence that films with a some cast diversity perform better in terms of both box office and investment returns than those with little to no diversity.