Electronic dance music (EDM) is not just growing, it's absolutely booming. The genre, which has been popular in Europe for decades but only really broke through in the US in the last couple of years, has now spawned an industry conservatively estimated to be worth $6.2 billion a year, according to figures from the Association for Electronic Music (AFEM). "No other musical genre currently embodies the tastes of young people like electronic dance music," said the very old sounding Washington Post last week.
The concern is that young people, millennials if you insist,  also are embracing the illicit drugs associated with the subculture with a similar fervor. Emergency room visits related to MDMA (namely variants like ecstasy and molly) among people under the age of 21 more than doubled over a six-year period, the U.S. Substance Abuse and Mental Health Services Administration said back in November.
And yet corporations that target the difficult-to-understand millennial age cohort are happy to be associated with the genre. EDM arguably is the most corporatized form of music in generations. Whereas artists in previous eras would insist upon not "selling out," and go to great lengths to distance themselves from corporate sponsorship, acts in the EDM world seem to actively court it. Brands like Heineken, Motorola, Coca-Cola, and 7UP (owned by Dr Pepper Snapple) have all enthusiastically sponsored EDM events. Live Nation, America's biggest concert promoter, has described EDM as its "fastest growing genre."
Last year there was even an EDM IPO, when SFX Entertainment, a concert promoter founded by well-known music industry figure  Robert Sillerman—a colorful character (paywall) who once owned majority rights to Elvis Presley's Graceland estate, and the production company behind the American Idol television series—raised $260 million in an initial public offering. SFX has had a tough comedown since its landing on the NYSE (the stock is down 44% since then), but its languid performance belies the seemingly unstoppable rise of EDM, which has now infiltrated not just popular music but popular culture. Some of the world's biggest pop stars clearly have been influenced by EDM, not just in their music, but in their behavior. And the most played song in the history of Spotify is an EDM-influenced track.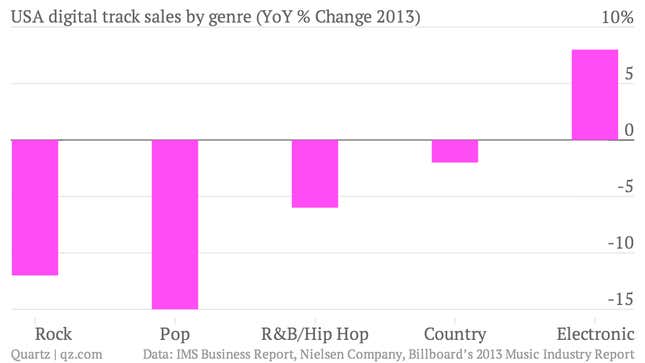 EDM was the only genre not to experience a decline in digital track downloads last year. And with its multiple revenue streams (ticket sales for extremely popular live events, corporate sponsorships, etc.) it arguably is showing the beleaguered music business a path forward to sustainable profitability. If it can survive, that is.
For older Americans, or those with an interest in music history, the rise of EDM might seem eerily familiar. Disco took the country by storm in the late 1970s, only to flame out spectacularly amid a fierce backlash from rock music enthusiasts. Proponents of the genre obviously don't think history will repeat itself. "This isn't disco,"John Boyle, the CFO of Insomniac, an EDM tour promoter, said in comments reported by The Verge. "This is hip hop with a lot more legs."