It's one of the world's first drone-based delivery networks, but it's not in the Silicon Valley. It's in Shangri-la.
A Silicon Valley startup is piloting a low-cost drone-based delivery project in the remote Himalayan nation of Bhutan that could save lives in far-flung rural communities—and perhaps pioneer the system globally.
Bhutan has only 0.3 physicians per 1,000 people, according to the World Bank data, which is lower than larger regional countries like India, Pakistan and Bangladesh. But the bigger problem for many Bhutanese is access.
With 31 hospitals, 178 basic health unit clinics and 654 outreach clinics (as of 2011) serving a population of over 700,000, the challenge is to reach remote mountain communities on time and affordably.
That's why, earlier this year, the Bhutanese government and the World Health Organization reached out to Matternet, a Palo Alto company backed by some big name American investors that develops transportation networks using unmanned aerial vehicles to reach hard-to-access places.
With funds from investors like Andreessen Horowitz, Scott and Cyan Banister and Winklevoss Capital, Matternet has spent the past couple of years conducting field tests in the Dominican Republic and Haiti.
The project in Bhutan, however, is the first big test for the startup. Matternet is aiming to build a network of low-cost quadcopters to connect the country's main hospitals with rural communities.
Matternet uses small quadcopters that can carry loads of about four pounds across 20 km at a time, to and from pre-designated landing stations. The company is able to track these flights in real-time, and aims to eventually deploy fully-automated landing stations that replace drone batteries, giving them extended range and flight time. The drones it uses typically cost between $2,000-5,000.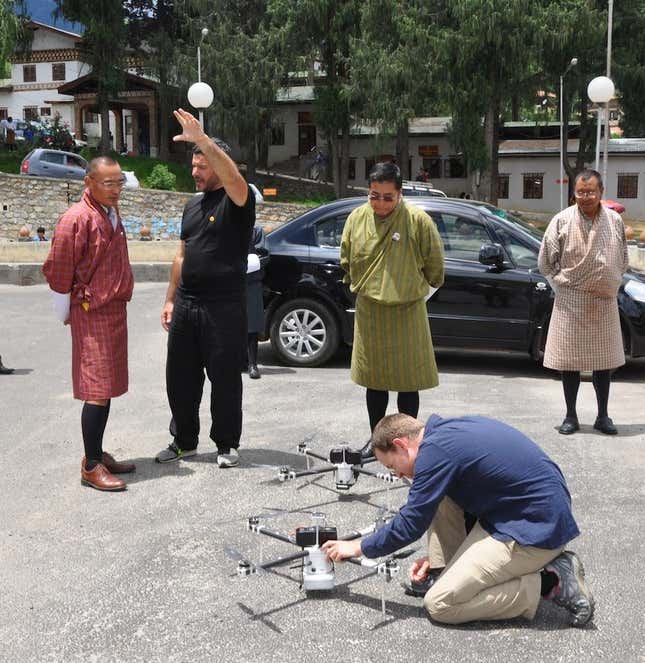 "It's not just about the cost, but the feasibility," says Matternet's chief regulatory and strategy officer Paola Santana, who reckons that creating a similar land-based delivery system in Bhutan would be much more expensive and difficult to track.
For the pilot project, Matternet is using four drones to connect the Jigme Dorji Wangchuck National Referral Hospital in Thimphu, Bhutan's capital, with three small healthcare units.
Bhutan, often compared to the mythical Shangri-la of Joseph Conrad's 'Lost Horizon,' is virtually all mountain. In the country's north, the air is thin and the altitude makes it difficult for flying. In the humid, subtropical south, monsoons bring up to 25 feet of rain per year.
The conditions are less than ideal for small drones, but Santana tells Quartz that they have functioned without any glitches so far. (There hasn't been any testing in heavy rains.)
Nonetheless, if pilot projects such as these work out, they could potentially lead to a massive new market for drone-based applications.
"Essentially, we see a market of civil government and commercial in terms $5.4 billion over the next decade," says Phil Finnegan, an analyst at the Teal Group, a US-based firm that analyzes the aerospace industry. "It's quite promising, in a lot of areas, not only in humanitarian areas but also in things like agriculture for UAVs to develop their capabilities."