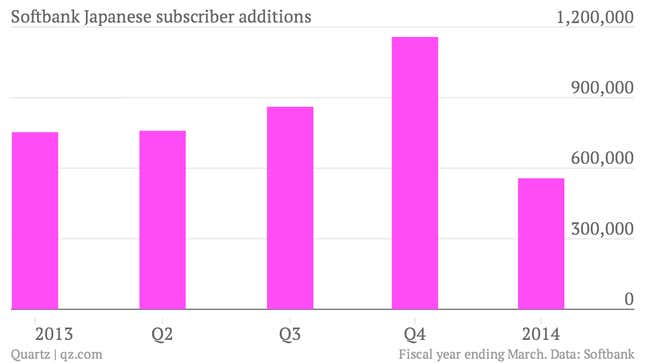 The numbers: The Japanese mobile phone operator's net income fell by 68%, to 77.6 billion yen ($763 million), in its fiscal first quarter (ending in June). Operating profit, which excluded interest payments for Softbank's Sprint acquisition and other one-time costs, fell by 16%, to 337.6 billion yen.
The takeaway: Softbank only added 557,000 net subscribers in the three months to June, far below previous quarters. It is locked in battle for new customers with rivals NTT Docomo, which added 461,000 during its latest quarter, and KDDI, which added 633,000.
What's interesting: The Japanese mobile market is saturated and cutthroat, as it's expected to shrink in the long term thanks to Japan's rapidly aging population. To diversify its business, Softbank also owns US mobile carrier Sprint, a large stake in China's Alibaba, and parts of some 1,300 other technology companies (paywall).
Earlier this week, Softbank CEO Masayoshi Son halted his pursuit of Deutsche Telekom's T-Mobile US business, which he had hoped to combine with Sprint, after deciding it would be too difficult to obtain US antitrust clearance. But analysts don't expect Son and Softbank to stay on the M&A sidelines for long, speculating that he might try to buy a mobile carrier in Europe. Given his company's disappointing results today, it's clear that Son has little choice but to look outside of Japan for growth.