At the top-secret internal training sessions that Apple offers to its employees, the message boils down to this: Be more like Picasso and less like Google. That's the takeaway from an excellent New York Times report on Apple University, as the iPhone maker's training program is known, which drafts in Ivy League professors and features tailor-made courses for incoming acqui-hires like Dr. Dre of Beats.
Drawing on interviews with three anonymous Apple employees, the Times' Brian Chen writes that the program is "an especially vivid reflection of Apple and the image it presents to the world. Like an Apple product, it is meticulously planned, with polished presentations and a gleaming veneer that masks a great deal of effort." It is also, like most of Apple's initiatives, compulsively secretive—the company declined to comment to the Times on the program's existence.
Steve Jobs' admiration of Pablo Picasso is well documented, from the painter's inclusion in Apple's "Think Different" ad campaign to the Picasso homage within the Mac OS "Finder" icon. For an internal course called "Communicating at Apple," former Pixar employee Randy Nelson uses the example of Picasso's lithograph series "The Bull," which shows the painter gradually paring down his representations of the animal until he uses only a few lines.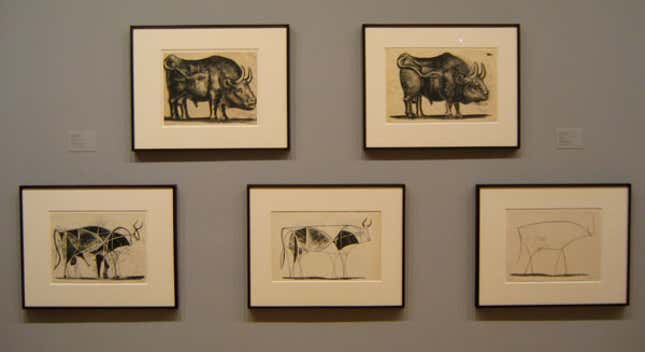 How does that apply to Apple? "You go through more iterations until you can simply deliver your message in a very concise way, and that is true to the Apple brand and everything we do," one employee told the Times. The impulse to ruthlessly pare down designs to their most essential forms is seen in the evolution Apple products over time, from the mouse to the iPhone.
In another class taught by Nelson, "What Makes Apple, Apple," he brings up the different design philosophies that gave rise to the Apple TV remote (a sleek sliver of aluminum with only three buttons) and the Google TV remote (78 buttons, including a QWERTY keyboard—presumably this one manufactured by Sony). Nelson explains that the simpler remote is an outgrowth of Apple's pervading culture of minimal design:
How did Apple's designers decide on three buttons? They started out with an idea, Mr. Nelson explained, and debated until they had just what was needed—a button to play and pause a video, a button to select something to watch, and another to go to the main menu.
Apple University practices what it preaches down to the smallest details. "Even the toilet paper in the bathrooms is really nice," one of the employees said.