One of the most memorable slides from Steve Jobs' iPhone unveiling in 2007 was this "before" look at the smartphone industry he was about to disrupt.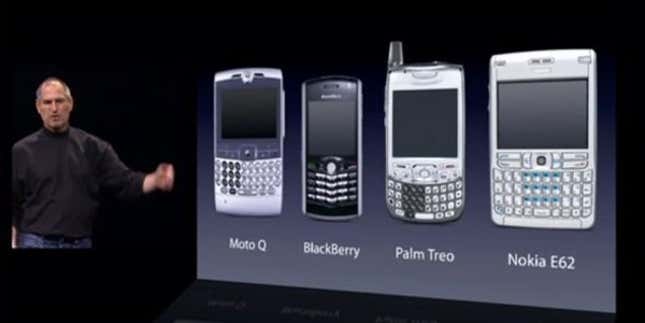 And disrupt it he did. All four of these pioneering mobile companies are either going or gone: Motorola, now part of Lenovo, was chewed up and spit out by Google; BlackBerry is trying to reinvent itself as an enterprise services company; Palm was bought by HP and shut down; and Nokia is a shrinking part of Microsoft.
It's easy to imagine a similar keynote slide for today's nascent—but heavily hyped—wearables market. It might include photos of things like Android Wear watches from Motorola and Samsung, the Jawbone Up and Nike FuelBand, and Google Glass.
Apple is widely reported to be working on a new wearable device, the rumored "iWatch," which the company could reveal as soon as its reported Sept. 9 new iPhone unveiling.
There's no guarantee, of course, that Apple will be dominant in wearables. Apple has already produced several wearable devices over the years, with varying levels of success. But today's wearables market—like the smartphone landscape illustrated in Jobs' slide—is just begging for its iPhone. And with Apple's hardware and software design experience—plus its vast media and app ecosystems—the company is uniquely positioned to deliver it.