At 8:55am, I drop off my two daughters at daycare, and by 8:56am, I'm at my desk starting my work day. If you think this sounds impossible, let me explain.
Three years ago, after the birth of my first daughter, I was caught in the constant push and pull that most parents face. Our society often refers to this as the elusive "work-life balance." But in reality, it's mostly off-balance. I wanted to return to work in some way, but there were conditions: I was committed to finding a way to integrate being a mom and a business professional. But like lots of new parents seeking this "balance," I quickly discovered that working in my dining room, hoping my daughter wouldn't wake from her nap during my conference calls… well, that just wouldn't work.
At that time, the only option available to me was to continue to juggle conference calls, focused heads-down work, breast feeding, naps, and (maybe!) a few minutes to have a grownup conversation with my husband, or to do what so many of us do: enroll my daughter in daycare (insert story of nagging parental guilt here). An idea kept simmering in the back of my often addled brain: There must be a way for people like me to work productively while still being present as parents, because parents and children are better together.
In July 2013, my dream became a reality when I opened NextKids, which is my vision for the future of of how we can live, work, learn, and play together. (NextKids is an offshoot of NextSpace, a coworking community with eight locations in California and one in Chicago.) NextKids in Potrero Hill, San Francisco, is a tightly integrated community for professionals from a wide variety of industries, like designers, biomedical engineers, app developers, and even a comedian. The goal is simple: to own our own time, to work together, and to be closer to our children while they are co-playing and co-learning in the kids zone door. You could call it the new work-play-life balance.
The monthly rate ranges from $1,000 to $2,200 depending on the age of the child and number of days of care per week. Membership benefits include work space access 24/7, eco-friendly diapers, organic snacks, trips to a nearby playground, and child development programs.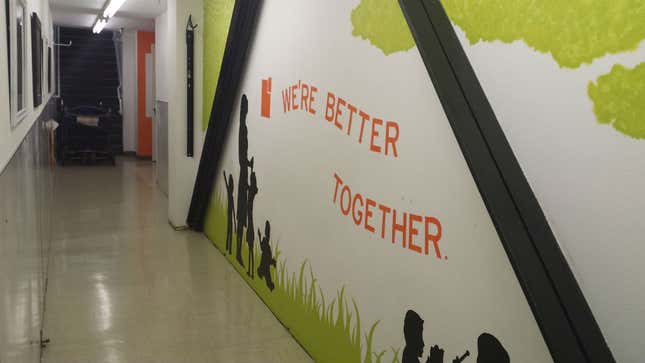 It's 9:45am now and I'm almost done with my morning's email and phone calls. I can sneak a quick peek at my children, signaling their caregiver that I'll be back before they go down for their nap, and then head into a conference room just a few steps away from the little wooden indoor slide where a couple of toddlers are playing. I booked that conference room last night on my smartphone after the older daughter had gone to bed.
Entrepreneurs, freelancers, and telecommuters can exchange ideas and discover great ways to bring new concepts to market—whether to benefit their career, their family, or themselves. There's a team of early childhood development educators and we provide the diapers, snacks, and all the amenities that little humans needs to thrive. We have separate rooms for toddlers and infants, but common areas as well, where kids, parents, and caregivers can play together (assuming that all-important conference call didn't run overtime). The curriculum aligns with kids' interests or what's happening around them, whether it's the changing of the seasons or playtime that includes toys or sounds from the new construction site they pass on the way to the playground, just a couple of blocks away.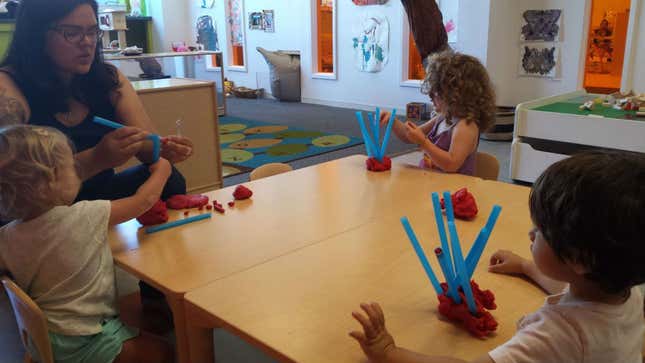 The beauty of the "playcare" and coworking model is that there's no strict separation between "kid world" and "grownup world." The moment someone walks into NextKids, the air is playful, even in the NextSpace hallway. You get a feeling that the sky's the limit, whether you're a toddler trying to master that wooden slide or a grownup putting the finishing touches on some work for an important client. Around the open collaborative workspace, workers are sharing desks and trading ideas, while just down the hall is where the kid magic happens.
It's now 11:00am and my five-month-old is ready for her feeding. I turn the corner and am welcomed by my daughter's gummy grin. She's hungry, and we both know, in our own way, that those 20 minutes of mama and daughter time are priceless. I'm able to decompress for a few moments and bond with my daughter. After feeding her, I can check in on my three-year-old, who has just returned from the playground. She's bursting with excitement to tell me about the giant hawk she watched catch a mouse.
By 11:45am, I've put my shoes on and am back at my desk, working on an investor presentation and preparing for a seminar that I'll attend the following week. I'm also reflecting on my recent visit to Washington, DC where I was invited to participate at the White House Summit for Working Families. While there, I met business and government leaders, policy makers, activists and mompreneurs like me, to explore the broad set of policy shifts to encourage better integration of work and family life.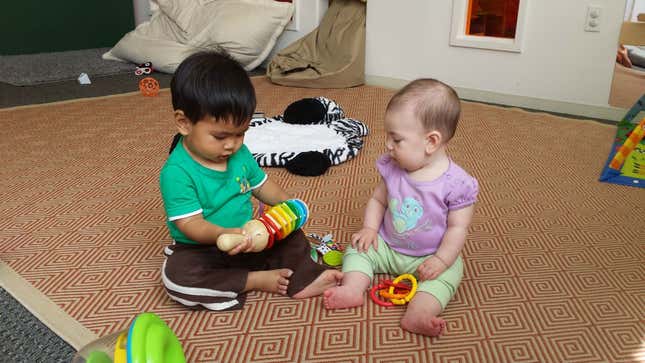 I check my watch again, and it's already time to pack up. The afternoon zips by, because with my newborn and my three-year-old close by, I am more productive knowing they are always with me, mentally and physically.
I consider myself lucky to have developed the NextKids vision at a time when I can personally benefit from it. When I take my girls to the playground, I also hear about other families' needs and it's great to see them envision how NextKids could benefit their lives, professionally and personally. It's all about integrating work and life as seamlessly as possible, on our own terms, and together with our children. We're all better together.