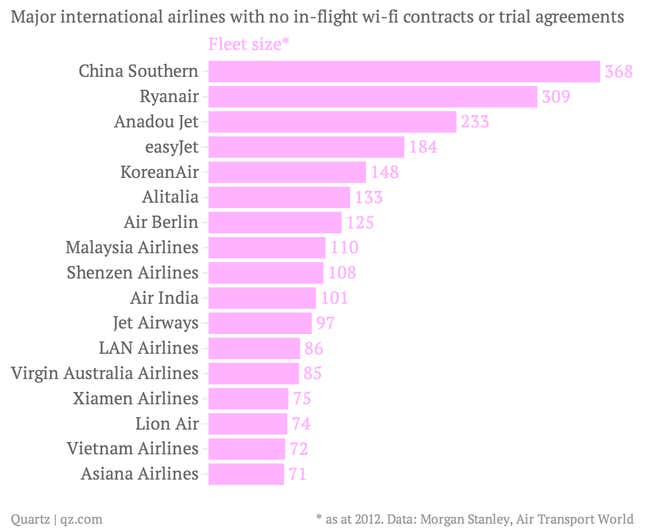 Wi-Fi is slowly but surely ramping up on domestic US flights. A larger proportion of them offer some form of Wi-Fi compared to many other places around the world. The above chart, using data published by Morgan Stanley analysts Simon Flannery and Armintas Sinkevicius, lists major international airlines (those with more than 70 aircraft in their fleet) with no public trials, agreements, or contracts for in-flight Wi-Fi. (We will update this story with any statements from airlines listed above to the contrary).
There is at least one possible solution for the many Wi-Fi-deprived international fliers that want (or need) to stay connected: hooking up with Gogo, the undisputed leader of in-flight Wi-Fi services for domestic airlines in the US.
The company, which went public just over a year ago, reported earnings this week. Investors weren't particularly impressed with the result (the stock is down 5% at the time of writing), but the company has plenty of room to run internationally. After ending the June quarter with 2,058 commercial aircraft online in the US, and only 19 commercial aircraft overseas, Gogo expects to have as many as 100 "rest of the world" aircraft hooked up by the end of the year.