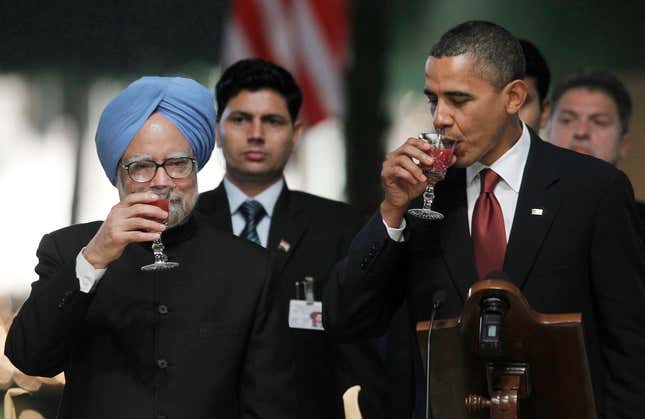 A continued hard line on China. The Obama administration has signalled it is not going to soften its stance on China anytime soon. A key plank of his manifesto was the need to bring American jobs back home. The US government has continued selling weapons to Taiwan, the self-ruled and democratic island that Beijing claims sovereignty over. And showing just how much this sparks its ire, China has reportedly been aiming more missiles at the rebellious island. Despite this, Chinese people felt a Romney victory would have been worse, and overwhelmingly backed Obama before election day.
More military support for China's neighbours – even Myanmar. In recent weeks, the US has seriously softened its stance on Myanmar, lifting multiple sanctions and even building military ties. The US military has also made big shows of friendship with Vietnam. As Fudan University professor Shen Dingli writes here: "Given China's rise and its strengthened efforts to make its maritime rights known, the U.S. is stepping up its surveillance and regional balancing measures vis-à-vis China."
Expanding trade ties with India, while the US stays out of the Kashmir dispute. Obama is likely to want to keep building trade ties with India, as well as military co-operation. Though so far he has refused to get involved in India's ongoing spat with Pakistan over Kashmir. It is hard to recall a time when North America and India were not allies. But in fact, Obama needs to keep tempting India with trade deals to cement what has in fact been a relatively short friendship. India was a key Russian ally during the cold war and maintains warm relations with Moscow.
South Korea is going to be a flashpoint. This is less about an Obama victory and more about the upcoming leadership change in Seoul. Obama has enjoyed strong relations with South Korea's current President Lee Myung-bak, as both favour taking a strong stance against Pyongyang. But Lee will, by law, have to step down next year. He might be replaced by a leader candidate who seeks warmer relations with North Korea. Ruling party presidential candidate Park Geun-hye  has said that, if elected, she will try to hold a summit with North Korean leader Kim Jong-un and propose exchanging economic liaison offices between the two divided countries.