Shares of King Digital—maker of the wildly popular mobile game Candy Crush Saga—are down more than 20% in after-hours trading, following weak second-quarter results. King also announced a surprise, $150 million special dividend, which seems unusual for a company that went public less than six months ago—and perhaps an admission of long-term trouble ahead.
King's second-quarter gross bookings (the total money spent by its users, an alternative way of measuring revenue) declined $30 million, or 5%, from the first quarter, to $611 million—below Wall Street's expectations of around $640-650 million. Candy Crush Saga itself generated $361 million in gross bookings, down roughly 16% from the first quarter.
The silver lining is that other games provided 41% of King's gross bookings during the quarter. That's up from 33% in the first quarter and 22% in the fourth quarter of 2013. In other words, its dependence on that one big hit is shrinking.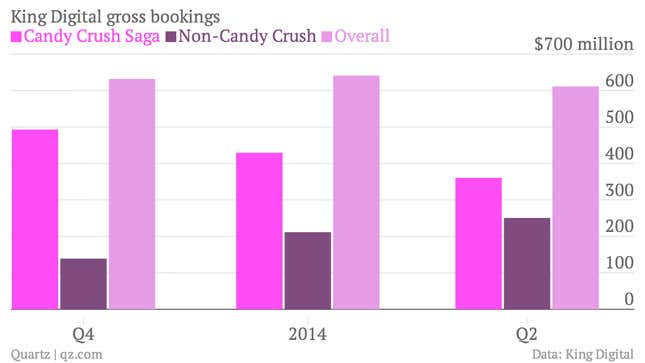 Gaming is historically a hits-driven business, and the fad-friendly mobile gaming market has proven this especially true. Zynga learned this lesson hard with hits that later fizzled, like Farmville and Draw Something.
So the key for King is to keep growing its gross bookings while still diversifying away from Candy Crush. It achieved only the second of those goals this quarter. And while King is relying less on Candy Crush, its other titles aren't growing fast enough to make up for that game's probably permanent decline.
What's more, there's no quick fix. King says full-year gross bookings will likely fall between $2.25-2.35 billion—well below Wall Street expectations around $2.6 billion.