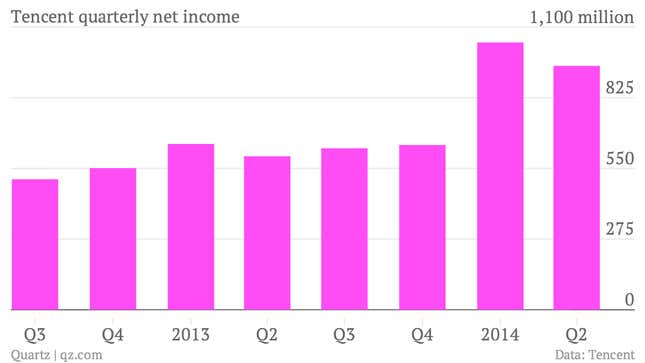 The numbers: Second-quarter net income for Chinese internet giant Tencent rose an impressive 59% to 5.84 billion yuan (pdf) ($949 million), better than analysts were expecting. Global monthly active users on its popular messaging app WeChat reached 438.2 million, an increase of 10.7% from the quarter before. Tencent's revenues from online games reached 11.08 billion yuan, accounting for over half of total revenue, up from 46% a year earlier.
The takeaway: With a market value of $161 billion, Tencent is Asia's most valuable internet company, a title that may disappear once its rival Alibaba goes public. Tencent's strategy is to use its massive user base on its WeChat/Weixin and QQ messaging apps to keep its lead, and to increase its dominant position in China's hot mobile game sector; free games are embedded in its messaging apps, and users pay for add-ons.
What's interesting: Last week, Chinese authorities released new restrictions on who can post political news on instant messaging apps, along with other restrictions. Tencent hasn't addressed how tighter government oversight will affect its business, but analysts and investors don't seem bothered yet: the company's shares are up over 30% since the start of the year.