The American TV presenter and media magnate Ryan Seacrest is the latest entrepreneur to tackle the "problem" of men dressing themselves.
The American Idol host's new line of menswear for Macy's, called Ryan Seacrest Distinction, includes the sort of sharp, slim suits and spread-collared (paywall) shirts that Seacrest himself favors, in the the $500-700 sweet spot proven successful by retailers such as J.Crew and Suitsupply.
But Distinction's most distinguishing factor may be its numbering system, "Style Made Smart," which is purportedly based Seacrest's personal system of organizing his wardrobe (though his favors Burberry).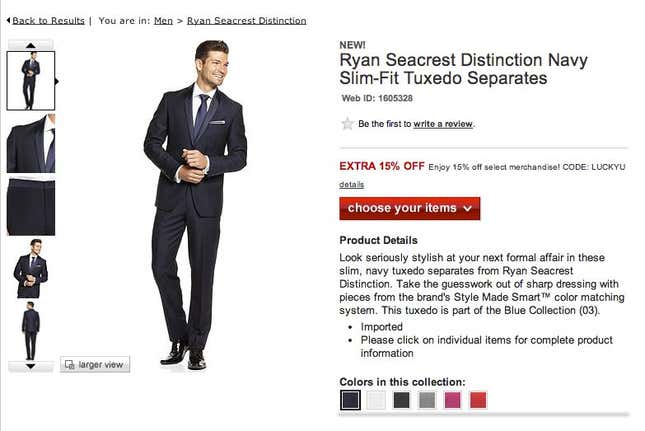 Indeed, when New York Magazine reporter Benjamin Wallace visited Seacrest's trailer at American Idol, he found the host's dressing room "full of suits grouped into ready-to-wear color clusters—black suits with compatible shirt-and-tie-and-­pocket-square pairings (and so on for brown, gray, and blue suits)—that let him streamline his dressing process."
Wallace also found a man with a tight rein on his schedule. In addition to Idol, Seacrest hosts a daily radio show, the weekly American Top 40 countdown, and various red carpet events for the E! cable network. He also produces the entire Kardashian reality television franchise (and many others, via Ryan Seacrest Productions), invests in technology companies, and owns part of the cable channel AXS. The very busy Seacrest speaks of his limited time in "units," so his system of dressing is designed to waste none.
The Macy's version works like a cross between a paint-by-number kit and a choose-your-own-adventure book. The system starts with a blue, grey, black, or brown suit, which is assigned a number to correspond to its color, with no-iron striped shirts and not-too-skinny silk ties to choose from—each item helpfully numbered to indicate which suits it should be worn with. None of the sartorial paths are too adventurous, which is reflective of Seacrest's own sharp, clean-cut, and safe style.
Some might see the numerical system as infantilizing—does an adult need a code to tell him his pants and shirt match? But in a sense, Seacrest is selling a 21st-century definition of power-dressing: the idea that men see the value in looking good, but they're also far too busy to worry about it.