Does it feel like airlines are inching their way deeper into your pocketbook? That feeling is about to get worse. Global airfares for business travelers are expected to rise 2.2% in 2015, according to a new travel industry report.
Fuel prices have stabilized (though they're still high), but airline seats aren't keeping up with the onslaught of new travelers, especially those climbing onboard from emerging markets.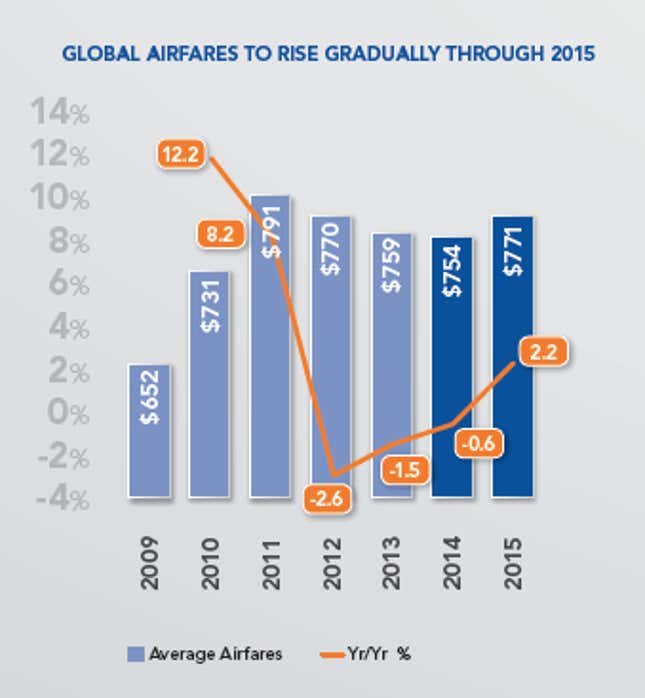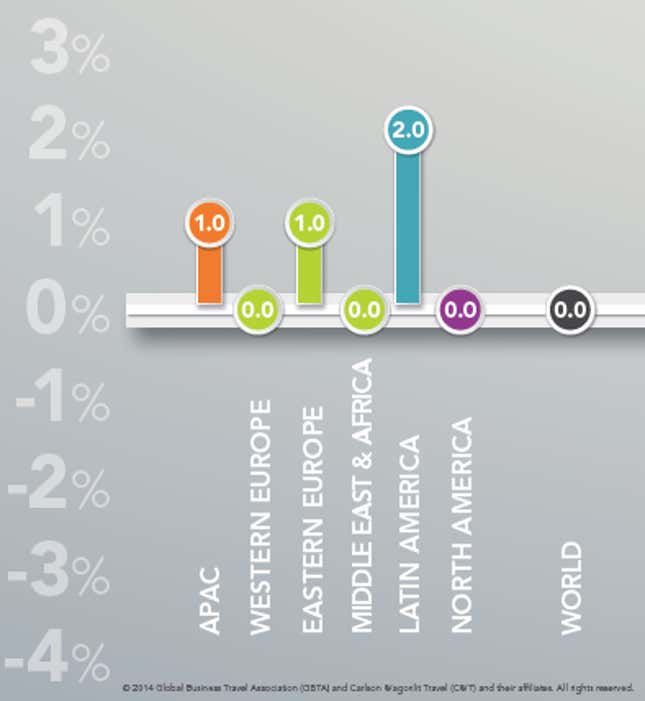 North America and Latin America will see the biggest price jumps, by 3.5% and 2.5% respectively, according to the report.
In Latin America, the airfare scourge is linked to runaway inflation in countries such as Argentina and Venezuela, which will drive up airfares in those countries by 6% to 7% in 2015. A deluge of low-cost carriers in the Asia Pacific region (APAC) like Air Asia and Scoot are tempering prices there, especially for short flights.
In North America, airline mergers and acquisitions are driving above-average price rises. Thanks to the US/American Airways tie-up and a partnership between Delta and Virgin Atlantic, only a handful of carriers now dominate in the country. American, United, Delta and Southwest now control more than 80% of the US market. That hands airlines the power to price at will. Mergers, which tend to reduce the number of flights out of former hub cities, also reduce supply.
Add to that all the extra charges US airlines are slapping on for baggage checking, seat upgrades and in-flight services, as well as higher fares for the increasingly popular premium class seats.
To avoid all this, business travelers going shorter distances on a budget might instead consider renting a car. Thanks to fierce competition and an oversupply of vehicles, global car rental rates are expected to stay flat next year.