While 62% of the total US population was classified as non-Hispanic white in 2013, when public schools start this fall their racial landscape will reflect a different America.
According to a new report by the National Center for Education (NCES), minorities—Hispanics, Asians, African American, Native Americans, and multiracial individuals—will account for 50.3% of public school students. To break this down by grade levels, minorities will make up 51% of pre-kindergarteners to 8th graders and 48% of 9th to 12th graders.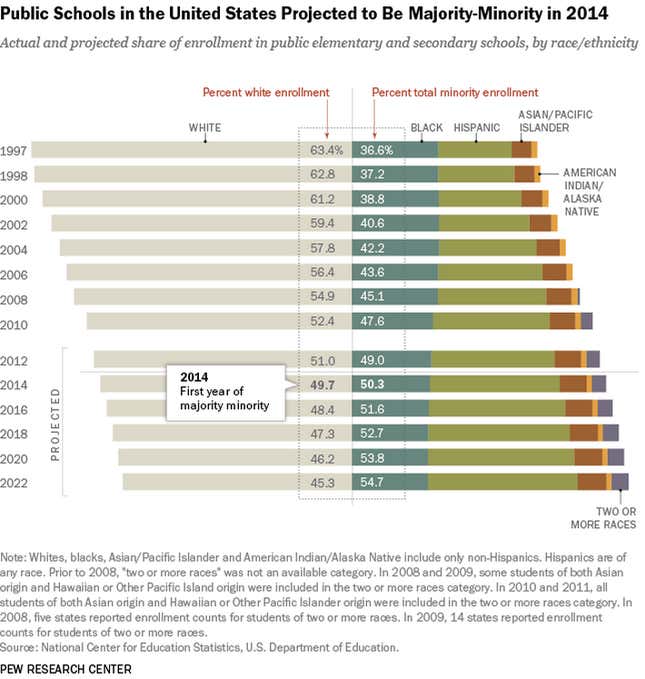 This change in enrollment comes amidst a growth in the percentage of US-born Hispanics and Asians in the overall population. Between 2012 and 2013, the Hispanic population grew by 2.1% and the Asian population grew by 2.9%. And reflecting these numbers, public schools will see big hikes in Asian and Hispanic students between 2011 and 2022. Hispanic students will rise by 33%, Asian/Pacific Islanders by 20%, multiracial students by 44%, and African-Americans by 2% between 2011 and 2022. Meanwhile the percentage of Caucasians is projected to decrease by 6% and of American Indian/Alaska Natives to decrease by 5%.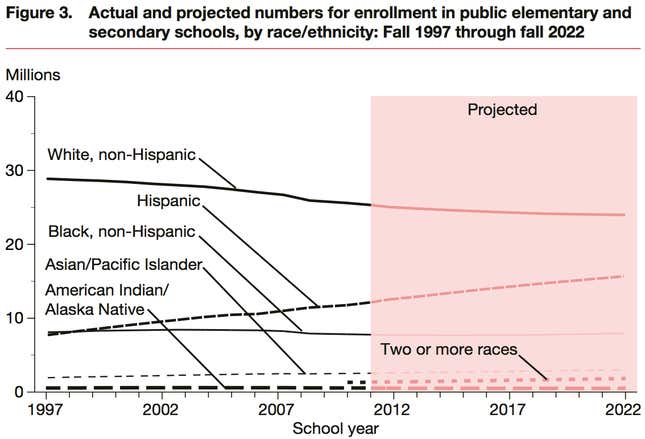 Hispanics and Asians are also forecast to produce the biggest increase in high school graduates: between 2009-10 and 2022-23, there will be an increase of 64% in Hispanic graduates and 23% in Asian/Pacific Islanders.
However, this demographic change raises some concerns. Hispanic, black, and Native American students tend to academically fall behind (pdf) their white and Asian counterparts. And Hispanic and black students tend to live and attend schools in areas of greater poverty than whites. Leaders in education need to tackle some key issues regarding academic and economic disparities between minorities and whites, not to mention racial division and resource availability.