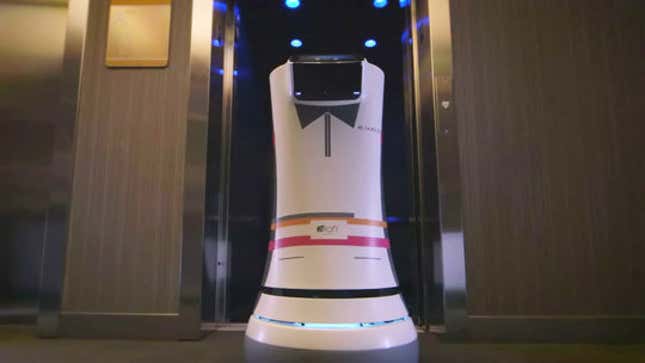 Today is the first day on the job for Starwood Hotels's robotic butler, which helps shuttle things like toilet paper and toothpaste to guests' rooms.
"Botlr," as the bow-tied robot is called, is on trial at the Aloft Cupertino hotel in Silicon Valley (go figure). The robot uses sensors to navigate the hotel corridors and respond to guests as they open the door. In return, guests may be chuffed to find that Botlr expects no tip, just a review that goes back to the front desk.
If the trial is successful, Starwood hopes to unleash an army of Botlrs around its properties globally.
At least one worker's union is none too pleased. UK hotel worker's union Unite called Botlr "gimmicky" and said the idea of robots working in customer service lacked the "human touch." Starwood says its workforce won't suffer and that the robots will only augment its hotels' services.
The travel industry isn't immune to the rise of robotic labor. Germany's Dusseldorf Airport rolled out the robot "Ray," a car-parking valet, in July. The Edmonton International Airport in Alberta, Canada now has a kiosk robot that doles out directions to travelers and even responds to their emotions.
Botlr's tasks are arguably much simpler. And in time, human hotel staff may not miss the tips on offer for menial tasks; as mobile payments take hold, tipping culture could start to decline.