The Philippines' economy has been one of Asia's best performers recently, and is forecast by the World Bank to increase by more than 6% annually over the next three years.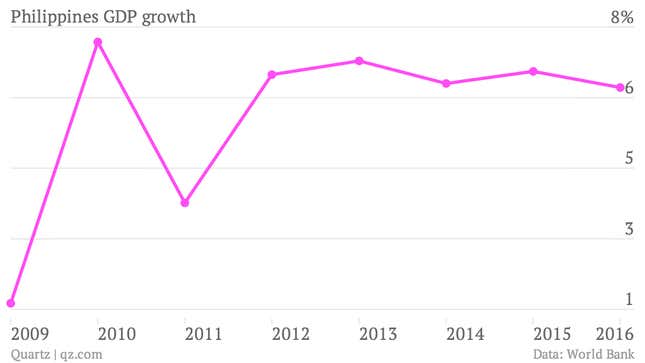 This growth is having a disconcerting effect on the "maid trade" in Hong Kong and Singapore, employment agents in both cities say. In both cities, tens of thousands of Filipino women work long hours cooking, cleaning and caring for children for about $500 a month, often while separated from their own children and families for years. Now there's evidence some of these women are opting to stay home instead.
Thanks to the Philippines' stronger economy, wealthy Singaporeans are having to "lower the bar" when hiring a Filipino maid, recruitment consultant Emmanuel Geslani told The Straits Times. Filipino women with excellent English and a good education are finding jobs at home, leaving Singapore's upper class with no choice but to import women with few specialized skills from impoverished rural areas. "Now, as long as the maids can speak and write English, it's okay," he said.
The shift comes as President Benigno Aquino is championing billions of dollars in infrastructure and development projects designed to build up the country's provincial towns, a push that is drawing migrants back to once-sleepy towns, as Bloomberg reported this week.
Hong Kong employment agencies have been importing women from poorer nations, like Myanmar and Bangladesh, to deal with a maid shortage, but with limited success, the South China Morning Post recently reported. Better paying factory jobs in Taiwan, South Korea, and Japan are also hiring Filipino woman that might have once worked as domestic helpers in Hong Kong, employment agencies said. Now potential employers in Hong Kong who previously had several candidates to choose from when recruiting a new maid are now down to only one.
After growing rapidly in recent years, the overall number of Filipinos employed in Hong Kong, which is mostly domestic helpers, declined slightly last year.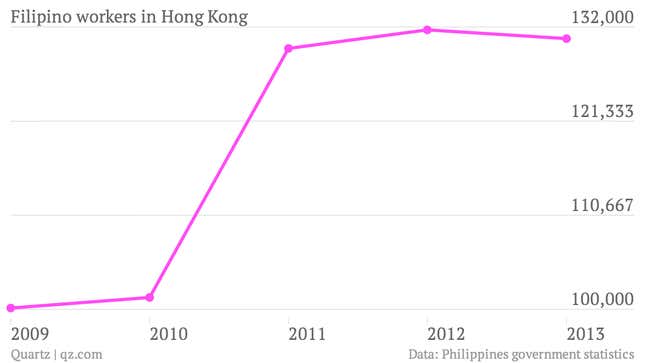 And the overall number of Filipinos working in Singapore has virtually plateaued after years of fast growth.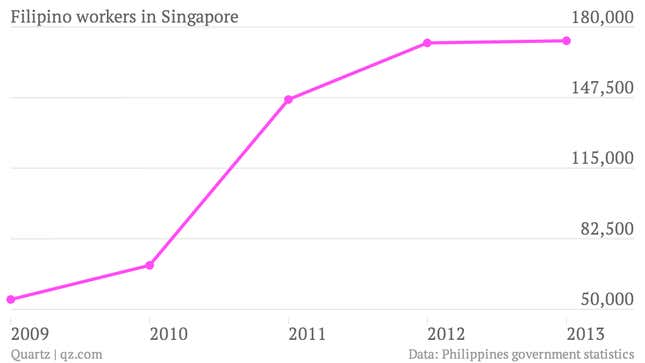 The Philippines has long been one of the major labor sources for the rest of the world, supplying everything from maids to fishing vessel crews to electrical engineers. Nearly 10.5 million Filipinos, or about 10% of the population, were overseas in 2012, according to the Commission on Filipinos Overseas: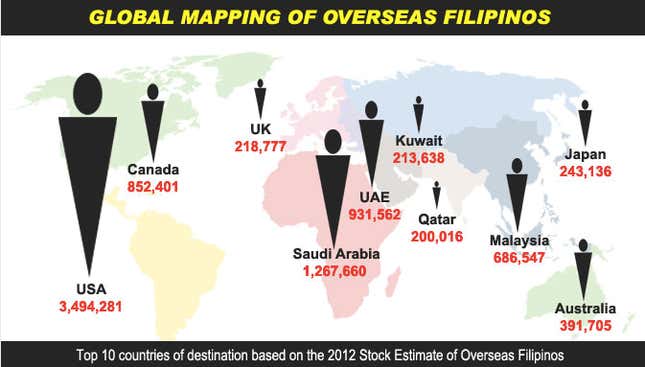 There's no evidence yet that fewer Filipinos overall are actually heading overseas for work, and overall domestic unemployment remains high. But given the country's strong economic growth forecast, Filipino workers from around the world may be coming home in larger numbers in years to come.