Is the worst behind Bank of America? Its shareholders seem to think so. The bank's stock is up nearly 2% today, after it announced a long-awaited settlement over a US government probe into its mortgage practices. The $16.65 billion settlement is the US's largest ever civil penalty leveled against a single corporation. It eclipses a similar $13 billion mortgage-related settlement JPMorgan Chase struck with the Justice Department last year.
The fine breaks down as follows: BoA will pay $7 billion in relief for homeowners struggling with mortgage payments and a $9.65 billion penalty to the Department of Justice. BofA said the settlement would shrink its pre-tax earnings by $5.3 billion—nearly half of its $11.4 billion reported profit last year.
Here's a look the bank's share performance so far today: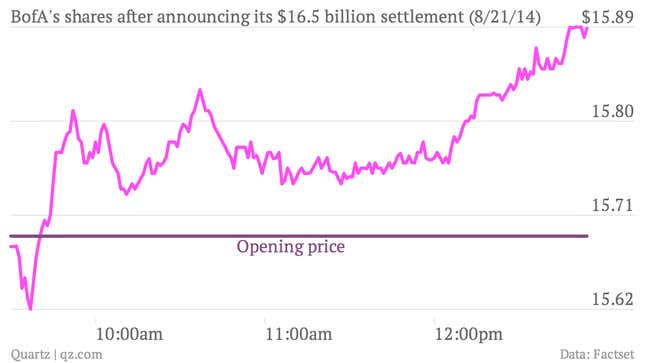 So why are investors shrugging off one the biggest fines in US corporate history? Because it could have been worse. BofA had been haggling for weeks with regulators over a potential $20 billion settlement.
Regulators agreed to credit BoA for the billions it has already paid under a broader bank settlement for consumer relief. So most of what remains to be paid is the $9.65 billion fine. Of that, bank analyst Dick Bove of Rafferty Capital Markets estimates that BoA's after-tax hit will only come to $4 billion. Meanwhile, the bank is on pace to outdo last year's $11.4 billion profit.